Maharashtra Under-19 Kabaddi Team off to Delhi for the National School Games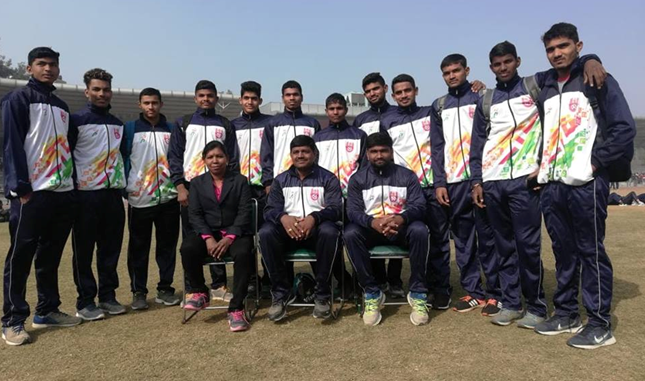 On 1st January Maharashtra's Under-19 Boys and Girls Kabaddi Team have been off to Delhi for taken part in 64th National Games organized by School Federation of India. The team which was selected at the State Level Kabaddi Championships held at Beed will represent Maharashtra state.
For the 64th National Games, Maharashtra's boy's team is in 'A' group. Delhi and N.V.S. teams are also in the group 'A'. In 'D' group of Girls, there are Maharashtra, Jharkhand and West Bengal. 31 boys team which will take part are divided into 8 groups. Like boys, 28 girls teams are divided into 8 groups.
The National Games will commence from 3rd to 9th January. In that Kabaddi's matches will start from tomorrow. Firstly the group stage matches which will be held. Then after knockout matches will be played. Dr. Ketan Gaikwad, Prof. Anil Jagdale and Prof. Sudha Khole are appointed as the coaches of these Under-19 Kabaddi teams.
League Stages Matches of Maharashtra Team (Boys) :
1) Maharashtra VS Delhi
2) Maharashtra VS N.V.S.
League Stages Matches of Maharashtra Team (Girls) :
1) Maharashtra VS Jharkhand
2) Maharashtra VS West Bengal
Maharashtra Under-19 Kabaddi Team (Boys)
Aakash Shinde, Vaibhav Garj, Paresh Harad, Prathamesh Salvi, Tejas Patil, Sahil Sandbhor, Aniket Teware, Yash Lokhande, Shubham Bhimate, Vaibhav Ugale, Aaditya Gore, Sachin Satpute
Maharashtra Under-19 Kabaddi Team (Girls)
Mansi Rode, Shital Mehetre, Sharvari Godase, Mrunali Tonape, Pratiksha Pise, Aarti Nangre, Snehal Uparwat, Sanjana Pol, Sanjana More, Jayashree Bundile, Rajkunwar Tapkir, Mandira Komkar