PKL 7 Performance Series: Maninder Singh vs Vikash Kandola – how do the numbers compare?
Saiprasad Kagne
Maninder Singh played vital role in Bengal Warriors' winning campaign last season. Vikash Kandola has been instrumental in Haryana Steelers performance so far. Although the team has not performed well, Vikash has managed to grab attention with his performance. In this article, we bring the comparison of performances of both the players from last season.
Analysis of Maninder Singh's Performance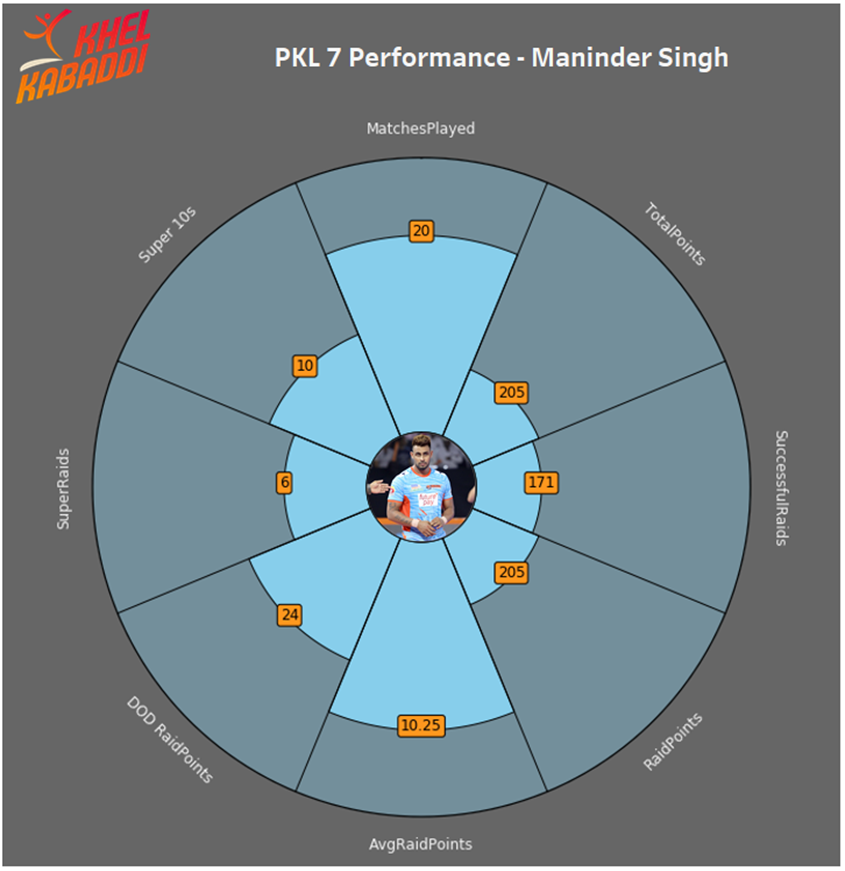 Maninder played 20 matches for his team Bengal Warriors. He made his PKL debut in the inaugural season of PKL and played for the winning team Jaipur Pink Panthers. Similarly, he finished his campaign with Jaipur Pink Panthers as their most successful raider of the season. He also scored 200+ raid points in both PKL 6 & 7. In last season, he scored 205 total points which included 171 successful raids, 205 raid points, 6 super raids, 10 super 10s, 24 do or die points with an average raid point of 10.25. Under his leadership, Bengal Warriors won their 1st ever PKL title. Thus, it's an obvious reason of his retention by the franchise. There is a high possibility that he will be leading the team again.
Analysis of Vikas Kandola's Performance
Above chart, displays that Vikas played 20 matches for his team Haryana Steelers. He made his debut in the 4th edition of PKL with Dabang Delhi but unfortunately couldn't get many opportunities to display his raiding abilities. For Dabang Delhi, he played just 4 matches and scored only 3 raid points. However, in the 5th season of PKL with Steelers, his performance was amazing by scoring 58 raid points in just 9 matches. Similarly, in season 6 & 7 he was among the top 10 raiders of the tournament. In last season, he scored 195 total points, 146 successful raids, 190 raid points, 6 super raids, 11 super 10s, 42 do or die points with an average raid point of 9.5. In terms of do or die raid points, Vikas Kandola was on the top position last season. This proves his ability to score points in pressure situation very well and creates pressure for the opponents.