Mind-Boggling! This Kabaddi player called a helicopter to take the bride home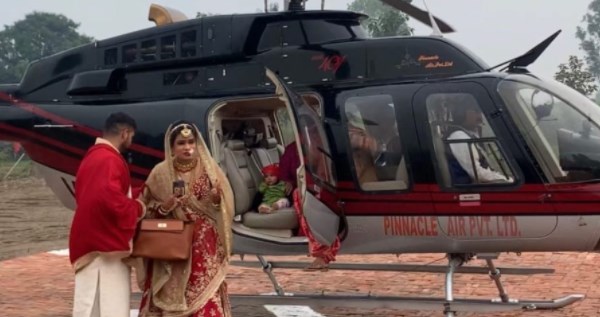 India's famous kabaddi player Rahul Chaudhary has just got married. For his fans, wedding ceremonies like Haladi, Barat were shown live on his Instagram by Rahul.
But now Rahul is in the news for a different reason. After the wedding, Rahul had called a helicopter to take his bride home. When the helicopter reached Rahul's village, many villagers had gathered there. They also took photos with the newlyweds.
Rahul grew up in a small village called Jalalpur in Bijnor district of Uttar Pradesh. His father is a home guard and also a farmer. The mother is a housewife.
Rahul's wife Hetali is the daughter of an Ahmedabad-based businessman. She is a pilot by profession and works for Indigo Airlines. Rahul is India's leading kabaddi player and has been consistently performing well in the Pro Kabaddi League over the last few years.