Mumbai and Thane's Men and Women make it to the semi finals of the Chhatrapati Shivaji Maharaj Chashak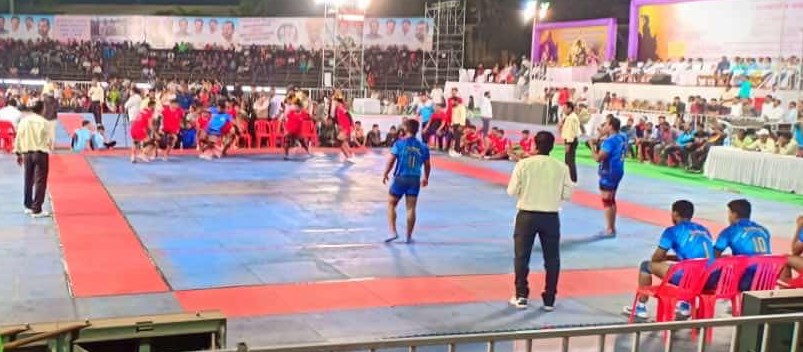 Sangli: Directorate of Youth and Sports Services, Maharashtra State in association with District Sports Officer's Vidarbha State Kabaddi Association Office and Sports Academy, Sangli and Pune District Kabaddi Association is hosting 'Chhatrapati Shivaji Maharaj Chashak' Kabaddi Tournament.
At the third day of the Chhatrapati Shivaji Maharaj Kabaddi tournament it was the knock-out round that began. In first quarter final of the women's team it was Kolhapur vs Pune where Kolhapur put in some great efforts but Pune picked up the win with the scoreline of 35-25.
In the game of Thane vs Palghar, Thane cruised past Palghar with a dominant 41-15. Mumbai City defeated Nashik in a one side encounter of 49-19. It was the fourth game in the women's division that piqued everyone's interest. A close encounter between Ratnagiri and Mumbai Suburb that was 18-12 in favour of Ratnagiri by the half time came extremely close and finally Ratnagiri bettering Mumbai Suburb by just one point with 34-33 a victory.
The Men's division clash between Nandurbar and Mumbai City was a close encounter as well. It was 18-18 at the half time post which Mumbai city showed a different character and Ajinkya Kapre's super raid made it an easy win of 43-32 over Nandurbar. Hosts Sangli were difficult to stop for the men of Ratnagiri as they defeated Ratnagiri with 36-20. It was local boy Nitin Madane who created a stir with his raid that took out 7 players and 2 all out points mounting to 9 points in a single raid.
Mumbai Suburb vs Raigad was quite an interesting tie where the crowd witnessed some amazing Kabaddi skills. It was Mumbai Suburb that was in the dominant position at the end where they won 46-30 over Raigad and confirmed their spot in the semi finals. Similarly in the match between Thane and Kolhapur it was Thane that made it to the semi finals after defeating Kolhapur 45-38.
Today at the final day of the tournament, it will be Semi Finals and Finals that the crowd will witness. Here is how the semi finals are lined up.
Women's Semifinals
Pune vs Mumbai City
Thane vs Ratnagiri
Men's Semifinals
Mumbai Suburb vs Thane
Mumbai City vs Sangli