Mumbai City's both teams won the title at Chhatrapati Shivaji Maharaj Chashak Kabaddi Tournament.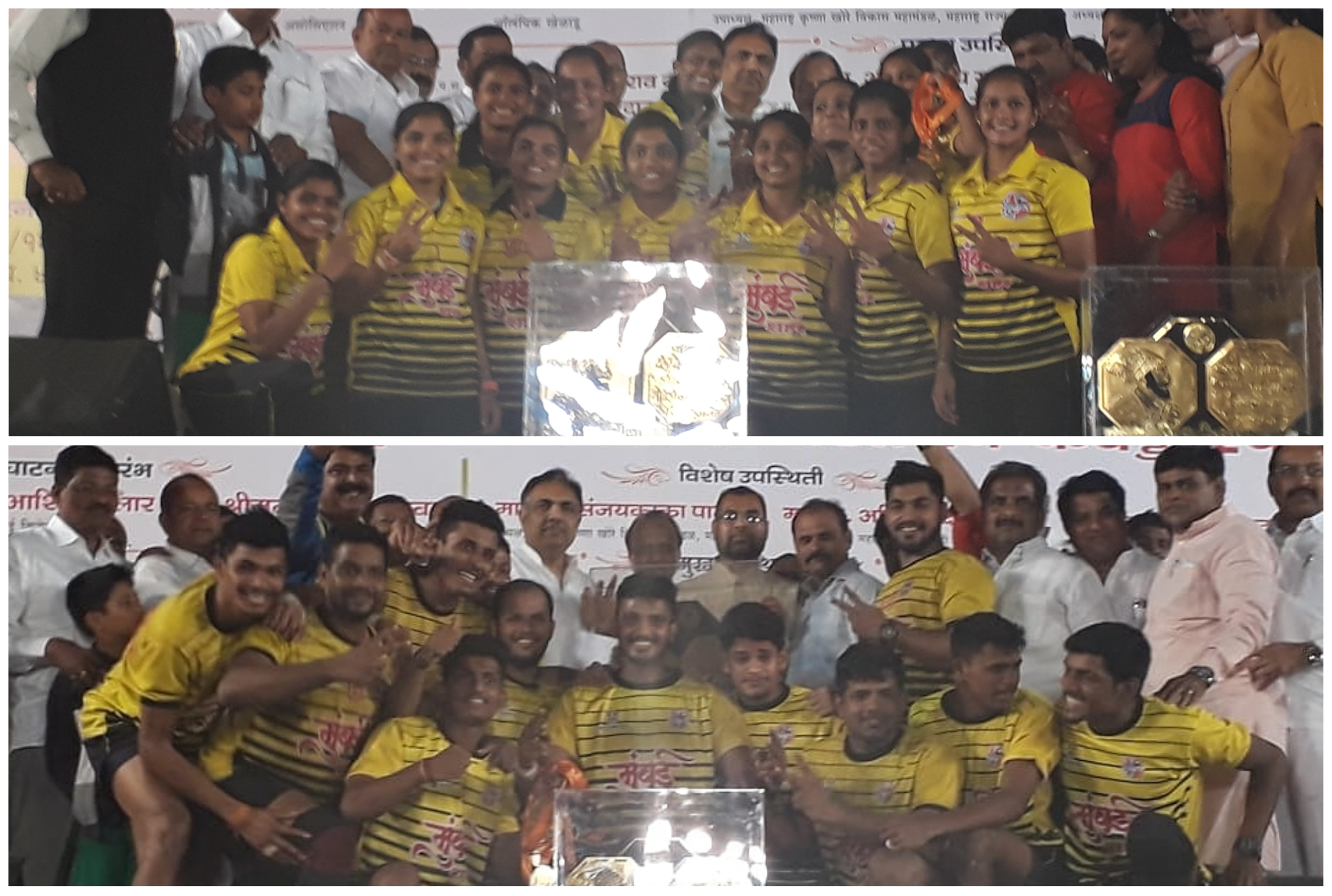 Directorate of Youth and Sports Services, Maharashtra State in association with District Sports Officer'sVidarbha State Kabaddi Association office and Sports Academy, Sangli and Pune District Kabaddi Association hosted 'Chhatrapati Shivaji Maharaj Chashak' Kabaddi Tournament in Islampur, Sangli.
Mumbai became the first team to win both Men's and Women's championships in this tournament. In women's section, Mumbai City clinched a victory over Ratnagiri 31-17 to win the 'Chhatrapati Shivaji Maharaj Chashak' trophy and cash reward of Rs. 1,51,000. Runners up Ratnagiri team was given a trophy and cash reward of Rs.1,00,000.
In the final match which was played at Jayant Patil Open Theatre Ground Ground, Islampur, Sangli where Mumbai City was in the lead as 15-04 over Ratnagiri. Kshitija Hirawe and Pooja Yadaw in offence and Sakshi Rahate in defence were outstanding. Ratnagiri's Shraddha Pawar and Simaran tried their best but could not succeed. As a result Mumbai won 31-17.
Talking about the Men's section, Mumbai City won over Thane 34-31 to win the trophy of 'Chhatrapati Shivaji Maharaj Chashak Trophy' and cash award of Rs.1,51,000. Mumbai City led the first half 18-10. From trailing 16-32, Thane made a comeback 29-34. But their efforts were not enough to clinch the victory. Mumbai City's Pankaj Mohite and Ajinkya Kapare were good in offence.
All four teams who lost in the Semi finals were given the trophy and cash reward of Rs. 25,000. The team which won from the group stage given Rs.7,500. With this both Mumbai City won the cash award of Rs.2,13,500. But awards such as Best Raider, Best Defender were not given which disappointed the Kabaddi fans who gathered at Islampur.
Final Results :
Men's Section
Winner – Mumbai City
Runners Up – Thane
Women's Section
Winner – Mumbai City
Runners Up – Ratnagiri