Nanibakhsh's game changing raid help Bengal to defeat Bengaluru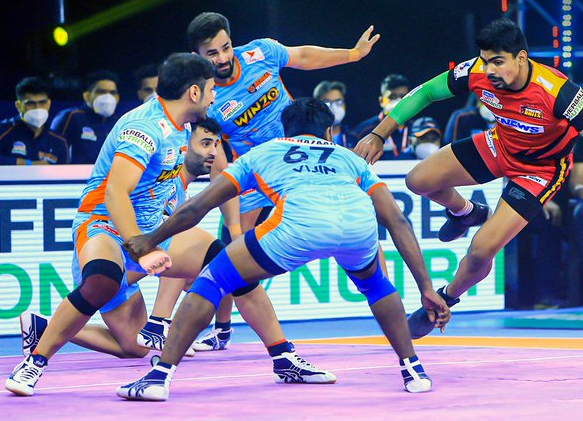 Day two of week five at Vivo Pro Kabaddi League season eight witnessed yet another breath taking action. In a massive turnaround defending champions Bengal Warriors beat PKL 6 winner Bengaluru Bulls 40-39.
Both the teams played one on one battle in the first half. No one was ready to give chance to another. The halftime score was 14 Bengal & 13 Bengaluru. The second half started with Bengal Warriors getting all-out.
In the 30th minute the score was 27-21 in favour of Bulls. Bengal was on the verge of getting all-out. Their only player Esmaeil Nabibakhsh went for the raid where he picked up bonus and was tackled by the Bulls team.
Bengal team reviewed the decision. As per them, Nabibaksh stepped into lobby first & then Bulls defenders tackled him. So according to the rule the players who tackled him are also out. There was a confusion created.
League commissioner Anupam Goswami was also present. After umpire's discussion Bengal Warriors got Bonus plus seven i.e. eight points. Nabibakhsh's error proved to be gift for Bengal as the game was turned.
Bengal players were revived & except one player Bengaluru players were dismissed. The score was changed to 29-28 in favour of Bengal. Bengaluru Bulls got all-out after one raid. Bengal led the game as 32-29.
After that this neck to neck battled was won by Bengal Warriors. Their skipper Maninder Singh scored 8 raid & 1 tackle points. Sukesh Hegde got 7 raid points. Esmaeil Nabibakhsh took 1 tackle & 5 raid points. Abozar Mohajermighani & Ran Singh picked up 3 & 2 tackle points respectively.
Bengaluru captain Pawan Kumar Sehrawat scored his 9th super 10 in PKL 8 & overall 40th super 10 of his career. He scored 13 raid points. Chandran Ranjit got 8 raid points. Saurabh Nandal took 4 tackle points.
Best Raider: Pawan Kumar Sehrawat – Bengaluru Bulls – 13 Raid Points
Best Defender: Saurabh Nandal – Bengaluru Bulls – 4 Tackle Points