NTPC, OM Sai in men's section, Rajmata Jijau, Shivshakti in women's went into the Finals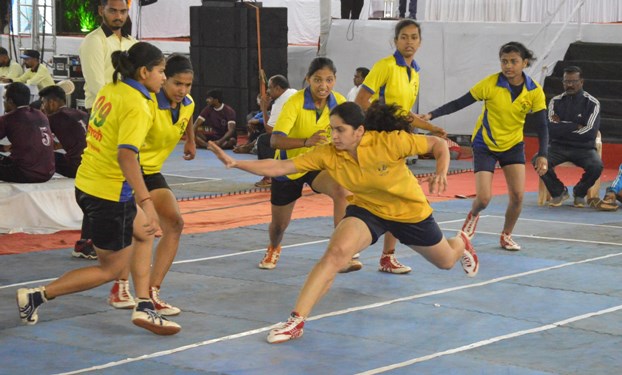 Maharashtra State Kabaddi Association recognized, Pune District Kabaddi Association, Pune Municipal Corporation has organized Pune Mayor Trophy 2019. Sports Committee Associate Rahul Bhandari is the organizer of this Kabaddi Tournament. The matches are being held on Symbiosis College Ground, Vimannagar, Pune.
On the fifth day, semifinal matches were played here. In the first semifinal of men's section, Shahu Sadoli Kolhapur suffered the loss in the hands of NTPC Nandurbar 29-24. They led the first half as 10-08. Suraj Desai, Dada Awad in raiding and Shubham Barmate, Abhijeet Chavan in defence were fabulous for them. Whereas Amit Patil, Swapnil Belhekar and Vivek Bhoite of Shahu Sadoli Kolhapur tried their best. But could not succeed.
Om Sai team of Chikhli, Pune crushed Islampur Vyayamshala Sangli 47-33. At the end of the first half, they had a lead 20-19. Rakesh Kumar's raids and Amol Vadar's tackles helped Om Sai team to beat Islampur Vyayamshala by a huge margin of 14 points. Islampur Vyayamshala's Saurav Kulkarni and Krushna Madane's efforts went into vain.
Talking about girl's section, Rajmata Jijau team from Pune thrashed Hanuman team, Bachani, Kolhapur 48-16 They had full dominance on the game as they led the first half 27-08. Sayali Keripale, Namrata Shilimkar raided well. Ankita Jagtap went for some good tackles. Asawari Khochari, Mrunali Tonape in raiding and Prajakta Desai in defence put a great show. But could not make their Hanuman team, Bachani win.
In the second semifinal, Shivshakti team defeated Suvarnayug team 35-15. They also had a lead 17-09. Sonali Shingte and Raksha Narkar gave a splendid performance for Shivshakti. Though Sonali Ingale played well for Suvarnayug team her efforts went into vain.