Number Game, who topped the Season 7?
Saiprasad Kagne
PKL has emerged very well and secured its position as India's No. 2 League. It also has played an important role in promoting Kabaddi as a sport and therefore viewers engagement has been increasing with PKL over last 7 seasons. In this article, we will have a look at previous season's top performers in terms of raid and tackle points.
Analysis of Top 20 Raiders' Performance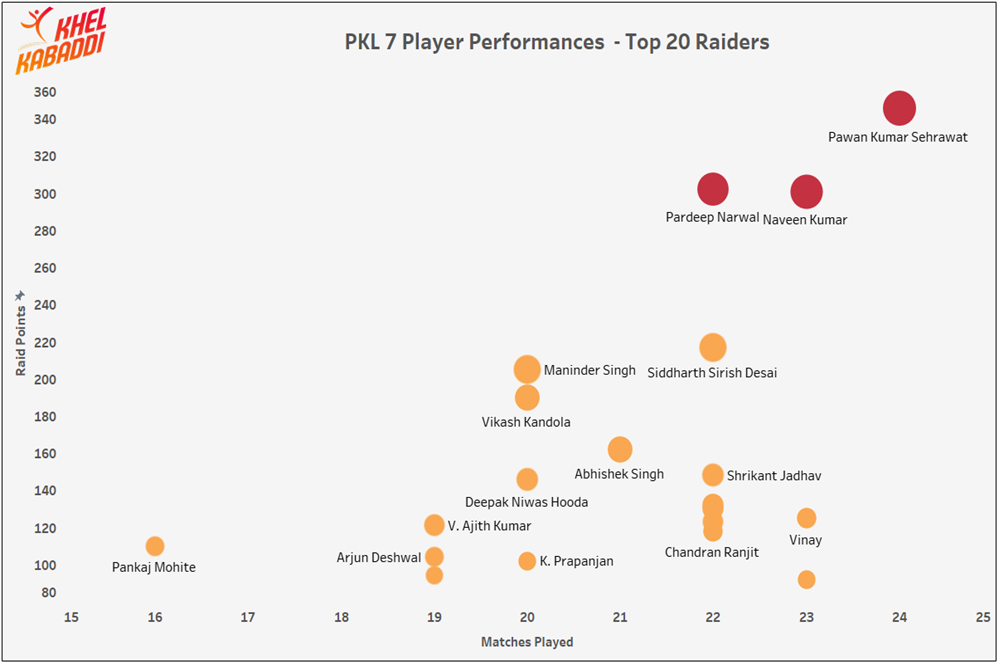 The above chart consists of top 20 raiders of PKL 7 along with Matches played, raid points and successful raids as main metrices. From above representation, we can conclude that Pawan Sherawat (346), Pardeep Narwal (302) and Naveen Kumar (301) were the top 3 raiders last season. These three players also got more number of matches to play as compared to others. This worked as an advantage to their respective scores. Some standout performers also got noticed such as Siddharth Desai (217), Maninder Singh (205) and Vikas Kandola (190). These players played vital role for their respective teams. That also resulted in teams retaining them for the upcoming season.
Analysis of Top 20 Defenders' Performance
The top 20 defenders of PKL 7 are displayed in above chart along with Matches played, tackle points and successful tackles as major parameters. From this chart, it is visible that Fazel Atrachali (82), Sumit (77) and Nitesh Kumar (75) were the top 3 defenders last season. All these players played more number of matches as compared to other players which resulted in their better performance. Some outstanding performers who grabbed attention were Sandeep Dhull (73), Baldev Singh (66) and Rinku Narwal (64) and Ravinder Pahal. Some star players disappointed with their performance which included, Sandeep Narwal (56) and Surinder Singh (54).