Patna Pirates & Puneri Paltan Settle For A Tie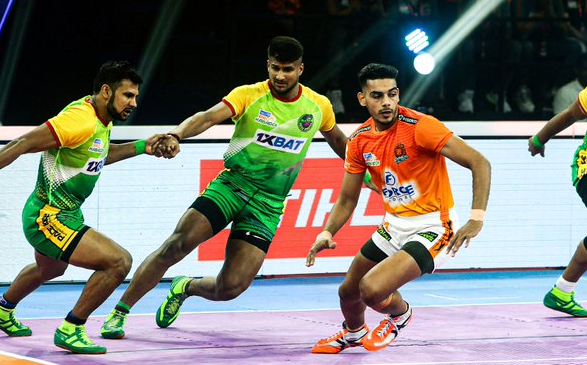 Day two of Vivo Pro Kabaddi League season nine was another day to remember. Puneri Paltan had to satisfy with a tie as 34-34 after leading first half against three times champions Patna Pirates.
Iranian players Fazel Atrachali who is Puneri Paltan captain, Mohammad Nabibakhsh, Mohammadreza Chiyaneh were not available for the match due to their travel back for fixing visa issue.
Both the teams traded the points early. Sachin & Patna defense were picking points for Pirates. For Paltan, this job was done by Mohit Goyat & Badal Singh
Puneri Paltan got Patna Pirates all-out. The half time score was 23 Pune & Patna 16. In the starting minutes of second half Patna repaid that all-out to Puneri & took the lead.
Patna were not able to consolidate its lead as Puneri kept picking points. This neck to neck battle ended up as a tie.
Patna Pirates raider Sachin raided well with 8 raid points. Defender Sunil & Thiyagarajan Yuvaraj had 3 tackle points each to his names.
Puneri Paltan captain Aslam Inamdar scored 7 raid points. Mohit Goyat earned 1 tackle & 7 raid points. Badal Singh took 3 tackle points.
Top Raider: Sachin – Patna Pirates – 8 Raid Points
Top Defenders:
Sunil – Patna Pirates – 3 Tackle Points
Thiyagarajan Yuvaraj – Patna Pirates – 3 Tackle Points
Badal Singh – Puneri Paltan – 3 Tackle Points