Patna Pirates retains Elite Players for PKL Season 9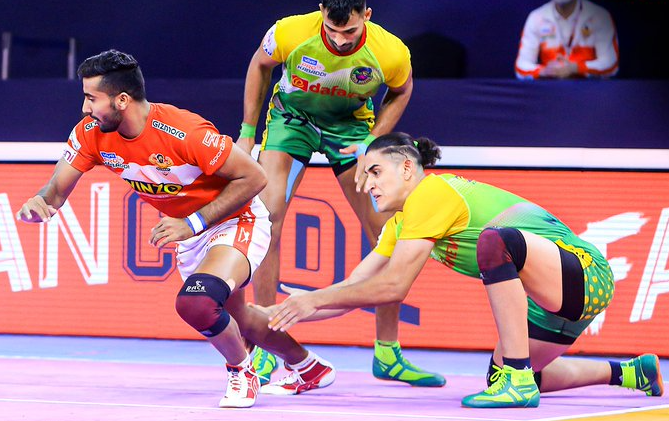 Strengthen its commitment toward new kabaddi talent from its home region by signing a player from Jharkhand
6 August 2022, New Delhi: The two-day player auction event for Pro Kabaddi League (PKL) Season 9 concluded successfully in Mumbai today. The squad of Patna Pirates after the auction reflects continuity from season 8. The team missed the trophy briskly by a point in a nail-biting thriller. The Patna Pirates, PKL's most successful team and the only one to win the title thrice, will once again bank on experience of elite players and the power of young players for clinching India's most successful sports league.
Following the PKL guidelines laid down for each Season, whereby teams are allowed to retain up to six players under the Elite Retained Players category and up to six New Young Players (NYPs) under the stipulated conditions, Patna Pirates had announced the names of players who are retained for season 9.
Those retained for the Season were Mohammadreza Shadloui Chiyaneh (defender), Neeraj Kumar (defender), Monu (raider), and Sajin Chandrasekar (defender) once again dominating defense and raiding unit that made a memorable final of last season in the history of PKL. The players making their comeback with the champion squad are Sachin, Rohit Gulia, a star all-rounder from railways, Sunil, a leading defender in PKL, and Abdul Insimam, a young raider from Tamil Nadu. However, the signing of Sagar, who plays as a left raider and a left corner is a refreshing pick from Jharkhand. Pirates have always been looking for promising kabaddi talent from their home region in Bihar and Jharkhand who could represent kabaddi at the highest level. Sagar's engagement with Pirates will open a gateway of opportunities for many passionate Kabaddi players from the Pirates' home region in the near future.
The team has also retained Rohit (raider) and Manish (defender) from the New Young Player category.
The list of players from the Franchisee nominated New Young Players category for the squad are Thiyagarajan Yuvaraj, Ranjit Venkatramana Naik, Anuj Kumar, and Naveen Sharma. The players that also made it to the Patna Pirates squad are Vishwas S, Sushil Gulia and Anand Surendra Tomar,
Speaking after the PKL S9 auction, Pawan S Rana, CEO, Patna Pirates said, "we are going to witness another great season of Kabaddi as most teams have strategized well in this auction. Patna Pirates being a leading team remains confident that our squad will present the true spirit of Kabaddi and our fans will get to experience thrilling and quality kabaddi."
About Patna Pirates:
Patna Pirates is the only team to have reached the playoffs in maximum seasons of Vivo Pro Kabaddi and consecutively retained the Champions Title in Season 3, Season 4, and Season 5. The team will be coached by Shri Ravi Shetty.
List of Players:
Sachin (all-rounder)
Rohit Gulia (all-rounder)
Mohammadreza Shadloui Chiyaneh (defender)
Neeraj Kumar (defender)
Monu (raider)
Abdul Insimam (raider)
Sajin Chandrasekar (defender)
Sunil (defender)
Sagar (raider)
Rohit (raider)
Manish (defender)
Thiyagarajan Yuvaraj,
Ranjit Venkatramana Naik,
Anuj Kumar
Naveen Sharma
Vishwas S,
Sushil Gulia
Anand Surendra Tomar
Shivam Chaudhary
Daniel Omandi Odhiambo