Patna Pirates Team Analysis For Pro Kabaddi Season 6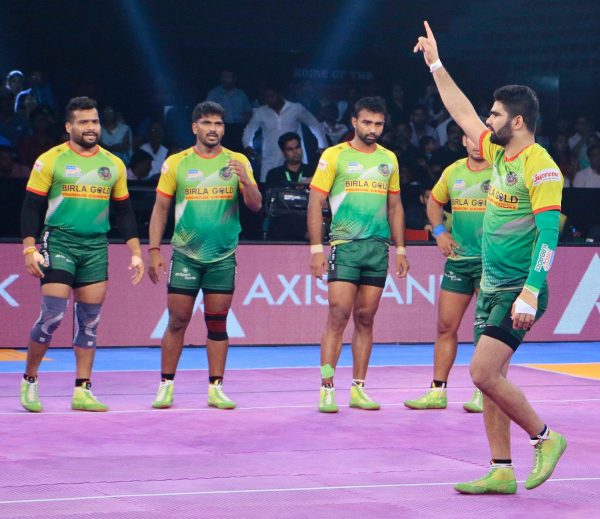 Pro Kabaddi League will kick off from 5th October 2018. Patna Pirates is the most successful team of the league. They have won three consecutive titles in last two years i.e. season 3, season 4 and season 5.
The defending champions Patna will look up to win their 4th title in this upcoming season. Rajesh V. Shah is the owner of the Patna team and Ram Mehar Singh is the coach of the Pirates. 
Patna Pirates retained Pardeep Narwal which was an obvious choice. Other than that, Jaideep, Jawahar Dagar, and Manish are also retained by the team. In auction they put their money on youngsters. They have left Monu Goyat who played a vital role in clinching the title in the previous season. 18 players will be representing Patna Pirates this season.
Here is a complete analysis of the Patna Pirates squad :
Raiders 
A total of 6 raiders are in the team. 'Dubki King' Pardeep Narwal has consistently given spectacular performance with his raiding from season 3. He was the top raider in last season with record-breaking 369 raid points in 26 matches. This time also Pirates will be expecting the same from him.
Deepak Narwal is back in the team after two seasons. He has got 85 raid points from 16 matches played by him in season 5. Tushar Patil who was part of Jaipur Pink Panthers in last season is also in the team. Both Deepak and Tushar are expected to support Pardeep in raiding.
Former UP Yoddha player Surender Singh who scored 70 raid points in 18 matches has also joined Patna's raiding side. Vikas Jaglan and Manjeet are also in the squad.
With Pardeep Narwal in the team, Patna Team has upper hand in raiding side and if he gets enough support from other raiders as well then Patna Pirates can become dangerous raiding side for opponent's defenders.
Defenders
There are 5 defenders in the squad. Patna Pirates managed to ring back Jaideep who has 71 tackle points to his name. He was the best defender for Patna Pirates in season 5.
Manish, Vijay Kumar, Ravinder Kumar, and Vikas kale are other defenders in the team. Manish who scored 22 tackle points in 23 matches is retained by the team management.
The defense lacks experience. No reliable defender can be seen in the team who can get crucial points in the defense section. PKL is known to boost and produce young talents from various platforms. So is the case with Patna defense which is filled with young blood. We'll now have to wait and watch for the season to began to witness their performances.
All-Rounders
Patna Pirates have 7 all-rounders in the squad. Having scored 172 points from 59 matches Kuldeep Singh has been brought by the Pirates team. He might go for defense as their raiding side is balanced but defense is not up to the mark.
Patna retained Vijay and Jawahar Dagar. Jawahar scored 6 raid points and 29 tackle points in 18 matches. Vijay has managed to score 27 raid points and 37 tackle points from 19 matches.
Arvind Kumar, Parveen Birwal, Korean players Taedeok Eom and Hyunil Park are also in the all-rounders' list.
Patna Pirates is a champion team and will count as favorites for the title this season too. But over-dependency on Pardeep Narwal can cost them.
Possible starting seven Patna Pirates in initial matches of PKL Season 6:
Right Corner – Manish
Right In – Tushar Patil
Right Cover – Vikas Kale
Center – Pardeep Narwal
Left Cover – Kuldeep Singh
Left In – Deepak Narwal
Left Corner – Jaideep