Pirates and Thalaivas settle for a tie in PKL 8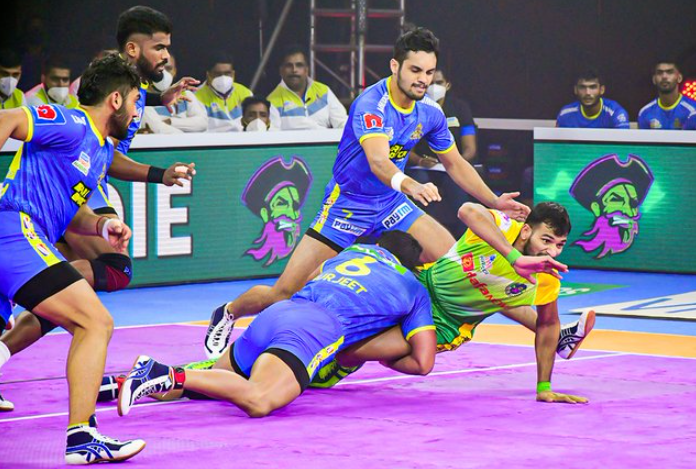 Day two of week 3 at Vivo Pro Kabaddi League season eight was another day to remember. Three times champions Patna Pirates had to satisfy with a tie as 30-30 after leading first half against Tamil Thalaivas.
Both the teams traded the points early. Monu Goyat and Skipper Prashanth Kumar Rai were picking points for Pirates. For Thalaivas, this job was done by Athul MS and Ajinkya Pawar.
Patna Pirates got Tamil Thalaivas all-out. The half time score was 18 Patna and 12 Tamil. In the starting minutes of second half Thalaivas repaid that all-out to Pirates and took the lead.
Thalaivas were not able to consolidate its lead as Patna kept picking points. In the final minute Sachin of Patna and Athul of Tamil played safely and put empty raids. This battle ended up as a tie.
Patna raiders Monu Goyat and Prashanth Rai raided well with 8 and 6 raid points. Defender Mohammareza Chiyaneh had 3 tackle points to his name. Neeraj Kumar got 2 tackle points.
Thalaivas raider Ajinkya Pawar scored a super 10 with 12 raid points. Athul MS earn 6 raid points. Tamil skipper PO Surjeet Singh notched up 4 tackle points. Sagar Krishna took 3 tackle points.
Best Raider: Ajinkya Pawar – Tamil Thalaivas – 12 Raid Points
Best Defender: PO Surjeet Singh – Tamil Thalaivas – 4 Tackle Points