PKL 7 Eliminator 1 Analysis – UP Yoddha v/s Bengaluru Bulls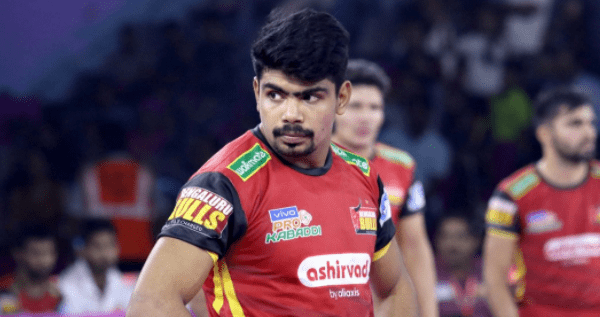 Saiprasad Kagne
After 132 league matches, best 6 teams qualified for the PKL playoffs. In PKL 7, those 6 teams were Bengal Warriors, Dabang Delhi, U Mumba, UP Yoddha, Bengaluru Bulls and Haryana Steelers. In the 1st Eliminator battle, UP Yoddha took on Bengaluru Bulls. This was the battle of the best v/s best i.e. Pawan v/s Nitesh. In this article, we will have a detailed analysis of Eliminator 1 with an analytical approach.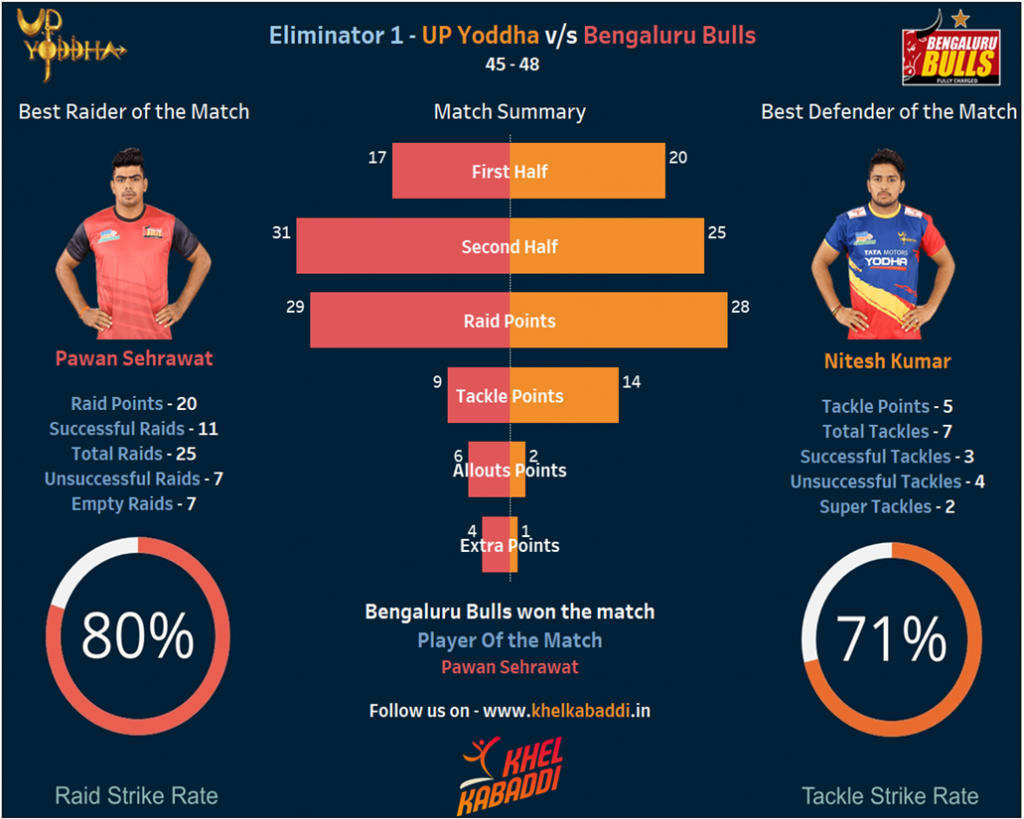 On 14th October 2019, Eliminator 1 of PKL 7 kicked off between UP Yoddha and Bengaluru Bulls. Before this playoffs, UP Yoddha had already defeated Bengaluru Bulls twice in league stages. Thus they entered into the playoffs with an added advantage over Bengaluru Bulls.
First Half
From the very 1st raid itself UP Yoddha was leading the game and Bengaluru Bulls were seeming quite restless in the beginning of match itself. Progressing with similar speed UP Yoddha earned their 1st all-out over the opponent in the 8th minute of the game itself. On the other hand, Bengaluru Bulls were just finding their right foot to start off their beginning in the game. Pawan's Super raid of 4 points in the last 7 minutes of the 1st half brought a ray of hope to their comeback towards the game. Eventually, 1st half ended with (20-17) in the favor of UP Yoddha.
Second Half
In this half, first 5 minutes went pretty smoothly but after that sudden change in approach from Bengaluru Bulls was observed towards the game. This match between the 2 captains was to prove their potentials and therefore hard battle was seen between them. During this, both were really looking good with their skillsets and Nitesh tackled Pawan 2 times and that too in super tackle situation. This gave him an edge over Pawan in the Eliminator. As the game progressed, Pawan was becoming completely intense and they scored a valuable all-out against UP Yoddha. Followed by Saurabh and Pawan who equaled the scorecard for the 1st time in the game and were leading the game for 1st time as well. Now, all the hopes were on the last raid of the match which is the most important raid as well. Surender finally equaled the scorecard for Bengaluru Bulls and in the end the match went into Extra time.
Extra time
Now here, the match started with an effortless approach from both the teams and both were on standby to make their 1st move. Nevertheless, due to Pawan's advanced tackles it costed his team couple of points and Bulls were once again behind in the game. With tiny half time, UP Yoddha led the game by just 1 point. In the 2nd half of extra time, Pawan took aggressive approach. He was scoring multiple points and at last this made Bengaluru Bulls to qualify for the PKL 7 semifinals. Bengaluru Bulls beat UP Yoddha by 3 points lead (45-48).