PKL 7 Eliminator 2 – U Mumba v/s Haryana Steelers – Numbers Game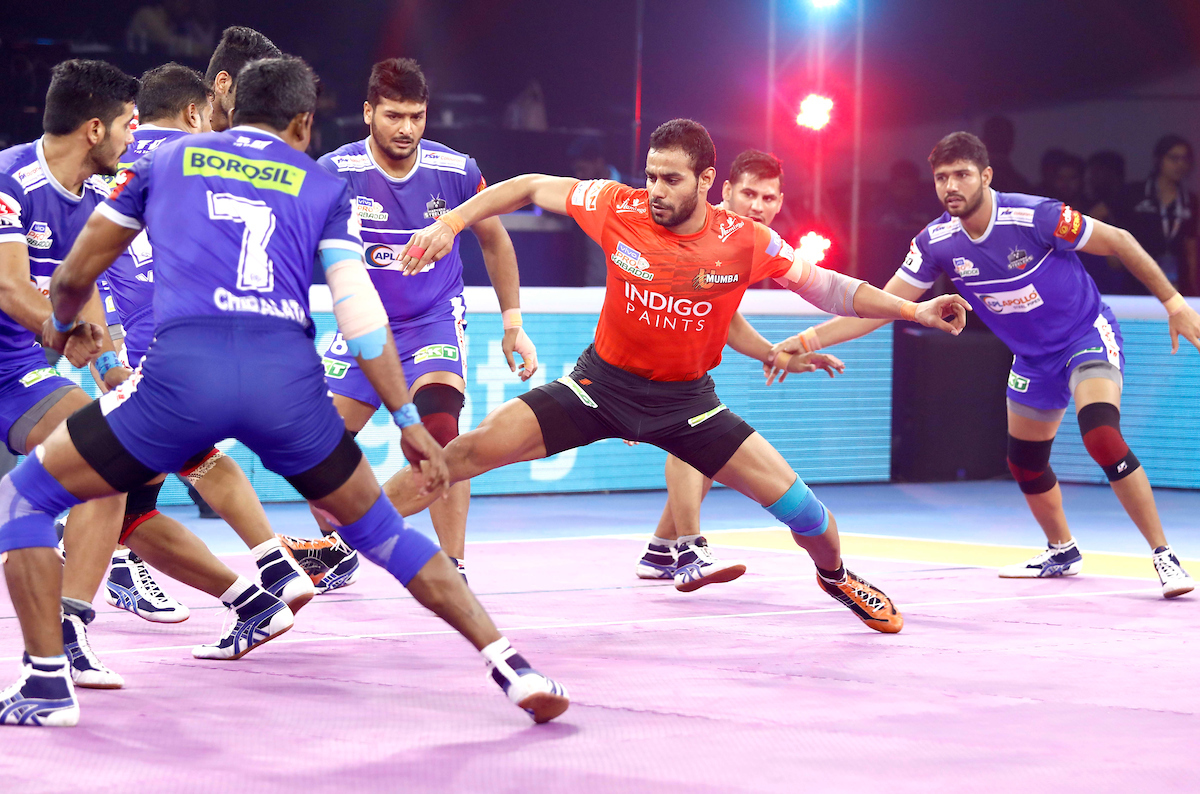 Saiprasad Kagne
On 14th October 2019, U Mumba and Haryana Steelers faced each other in the PKL Eliminator 2 to get the entry ticket of semifinals. U Mumba, the campions of PKL 2 were looking to maintain their winning habit while Haryana Steelers had an opportunity to assess their previous loss and make it to their 1st ever Semifinal. In this article, we will have a detailed analysis of Eliminator 2 with an analytical approach.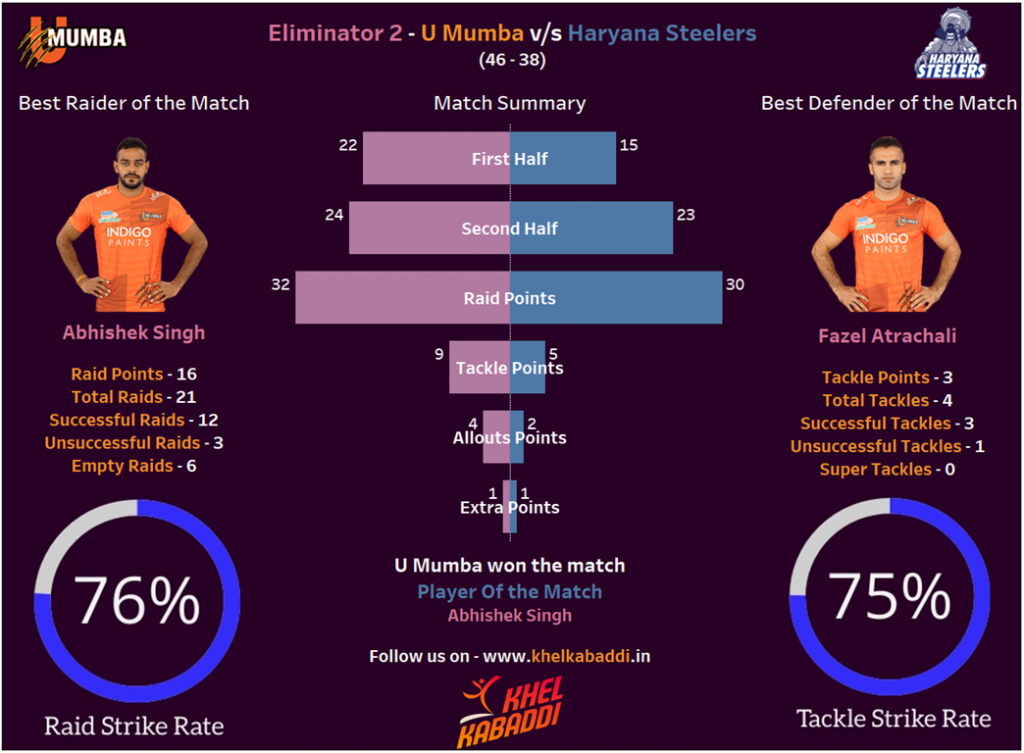 First Half
In the 1st half, beginning from both the teams was very calm for couple of minutes. After that, Prashant Rai scored the stunning Super raid including 1 Bonus and 2 Touch points in his 1st raid itself for Haryana Steelers. Now, as the game progressed both the teams seemed playing totally balance game with 5-5 on scorecard in 1st 5 minutes of the game. Here again, Haryana Steelers scored a Super raid in 1st 5 minutes of the game itself and this time it was by Vinay. Looking towards the game till now, the game had 20 points on the scorecard in starting 10 minutes of the game. As the match was making its way forward, Haryana Steelers looked absolutely shattered with their plans and eventually conceded an all-out to U Mumba in the last minute of the game. The 1st half ended with (22-15) on the side of U Mumba.
Second Half
Now from the 2nd half of the game, we were expecting a solid comeback from Haryana Steelers in order to compete equally to defeat U Mumba. But U Mumba had other plans. From the 1st minute itself, U Mumba were playing like a daredevil who wants to finish off this match as early as possible. As a result, Haryana Steelers again conceded an all-out in the starting 5 minutes itself. The situation became totally devastated for Haryana Steelers in such a way that their comeback into the game was very difficult. However, the beauty of this game always reminds us that none of them is the winner or loser until the game gets over. With this attitude, finally Haryana Steelers started scoring consistently and for the 1st time in the game U Mumba conceded an all-out in the last 10 minutes of the match.
This game was an Eliminator which brings immense pressure on the mat due to which, with last 6 minutes remaining Haryana Steelers attempted couple of advanced tackles resulting in losing both their corners at a time. At last, with the help of Fazel's advanced successful tackle on Vinay confirmed U Mumba's entry ticket into the semifinals of PKL 7. U Mumba beat Haryana Steelers by 8 points (46-38).