PKL 7 Performance Series: Analysis of Dabang Delhi performance in season 7
Saiprasad Kagne
Dabang Delhi, runner-up of PKL 7 was not able cross the final hurdle and were seemed like they were more dependent on their star raider Naveen Kumar. With the auction for new season over, it looks like they are well prepared for upcoming season.
In this article, we will have a look at their last season performance with certain metrices through an analysis.
Analysis of Raiding & Other Metrics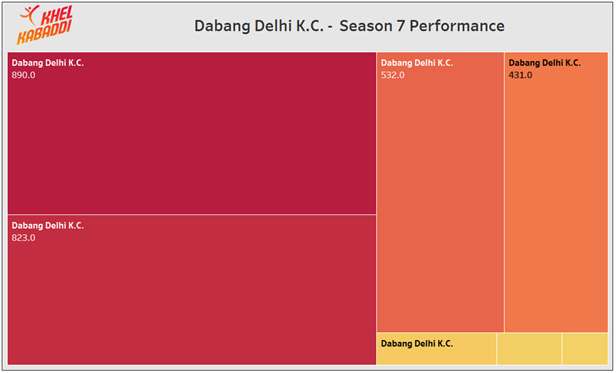 Above chart is called as Tree map, which is a multi-dimensional graph displaying hierarchical data in the form of combined rectangles. In last season, they scored 890 points in total in both raiding and defending unit while they conceded 823 points in total. This seems to be quite balanced difference between them hence they were able to avoid more advanced tackles in defense or more number of mistakes in raiding as well.
On the other hand, in raiding department they scored 532 points with 431 successful raids. This shows their conversion rate from 1 point to multiple points is very extra ordinary. As a result, they finished on 2nd position in terms of most raiding points. While with respect to Avg score, Avg raid points and Do-or-Die raid points they scored 31.41, 22.17, 58 respectively. Thus, they finished their campaign as runners-up last season.
Analysis of Defending & Other Metrics
Dabang Delhi scored 222 points with 214 successful tackles which shows their conversion rate in defense is not that great as compared to other teams. In terms of All out metrices, they inflicted 40 All-outs and conceded 26 All-outs throughout the tournament which plays a vital in team's win.
However, when it comes to game changing metrices i.e. Super raids and Super tackles Dabang Delhi is well above other teams with 11 super raids and 10 super tackles. This proves that they face situations like super tackle much less than their competitors. This also allowed them to have maximum number of players consistently on mat. Finally, in terms of Avg tackles points they scored only 9.25 points which sends them on 2nd last position table. Hopefully, they might improve this metric ahead of season 8.