PKL 7 Semi-final 1 Analysis – Dabang Delhi v/s Bengaluru Bulls
Saiprasad Kagne
After defeating UP Yoddha in the Eliminator 1, Bengaluru Bulls faced the table topper of PKL 7 Dabang Delhi in the Semi-final 1. In the league stage, Dabang Delhi defeated Bengaluru Bulls in the 1st encounter between them while 2nd match ended with in exciting tie. In this article, we will have a detailed analysis of Semi-final 1 with an analytical approach.
Analysis of Semi-final 1 – Dabang Delhi v/s Bengaluru Bulls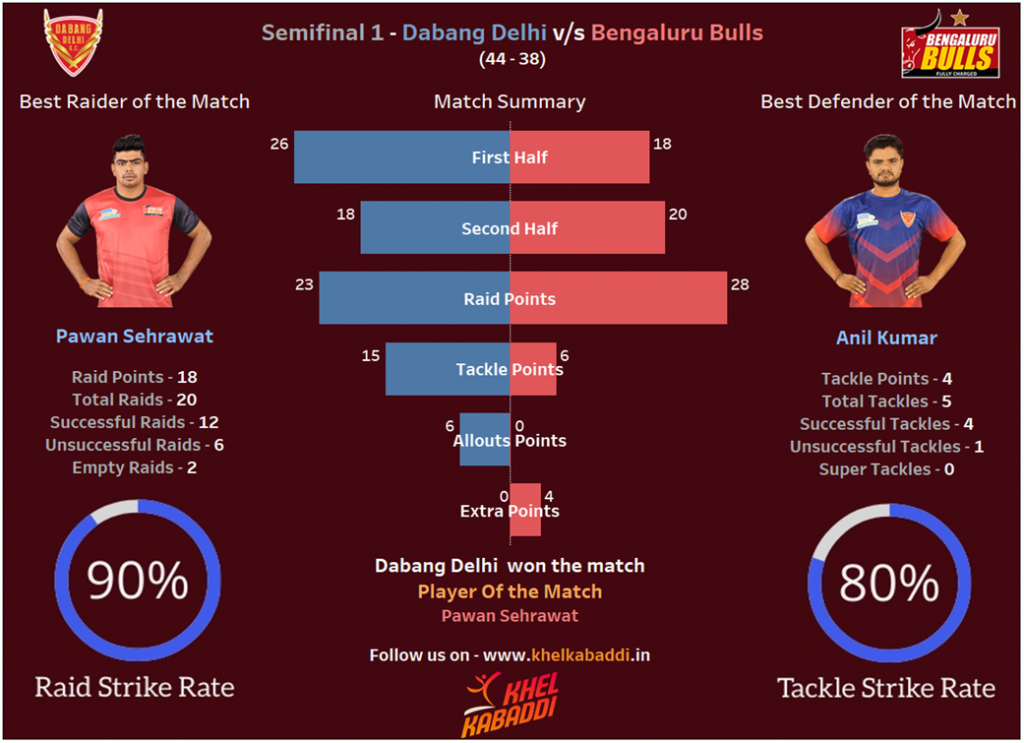 First Half
Dabang Delhi started the game with its 1st raid, very casual approach from Bengaluru Bulls conceded 2 easy points by advanced tackle in 1 minute of game itself. Eventually, this made Bengaluru Bulls to panic and they started making mistakes consistently in which Pawan had to sit on the bench in 1st 2 minutes of the match. As he is the major source of points for Bengaluru Bulls, without him his team completely looked shattered. As a result, they conceded an all-out in starting 4 minutes of the game.
Now, they managed to reduce the speed of the game in terms of losing points. Outcome of this resulted in a Super raid for Bengaluru Bulls by the 'big-fish' Pawan Sehrawat. Nevertheless, they again started losing players on the mat due to their poor defense which created a Super tackle situation for Bengaluru Bulls. In this situation, Naveen Kumar Goyat of Delhi raided and quite comfortably was picked up 2 points for Dabang Delhi. Consequently, Bengaluru Bulls again conceded an all-out with last 10 minutes remaining for the 1st half. As the game progresses, Bengaluru Bulls kept losing points frequently and, in the end, again Super Tackle scenario arose for them. But this time them successfully scored a super tackle which is their 1st tackle point throughout the game by tackling Naveen. 1st Half ends with (26-18) in the favor of Dabang Delhi.
Second Half
In Kabaddi, this half is called as 'Comeback Half' for the teams. Similarly, Bengaluru Bulls started implementing the same against Dabang Delhi. As Naveen had been tackled twice in Super tackle situations, this time again he got tackled in the same situation. In time, this made Bengaluru Bulls to comeback strongly and same has been delivered by Pawan with dealing in only 1-2 points consistently for long period of time.
Dabang Delhi's Substitute Meraj Sheykh was brought in for do-or-die raid situation, unfortunately he got tackled and sent back to bench. Surprisingly, Another Successful Super tackle for Bengaluru Bulls and again this time on Naveen in the similar way as self-out. Now, with less than 4 minutes left in the game, Dabang Delhi executed another all-out on Bengaluru Bulls. However, just a formality was left in the game and that too was performed by Bengaluru Bulls's defense with conceding a point in last minute of game. At last, Dabang Delhi beats Bengaluru Bulls by 6 points (44-38).