PKL Season 8 Auction Series: What did Bengaluru Bulls spend most on and what did they let go off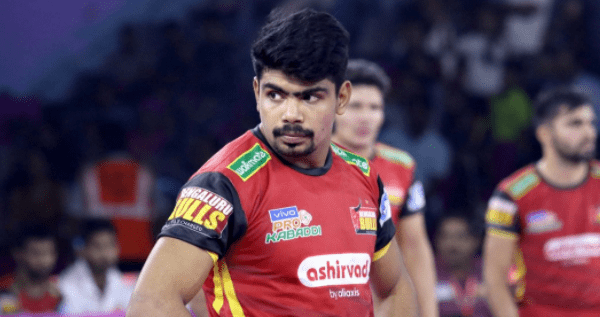 – Saiprasad Kagne
Bengaluru Bulls, Champions of PKL 6 had a brilliant campaign in last season but fell short in semi-finals against Dabang Delhi. Now, they came up strong in auctions investing much more on youngsters.
In this article, we will have a look at their auction buys in each department i.e. Raiders, Defenders and All-rounders through an analysis.
Here, it is observed that Bengaluru Bulls had brought 5 raiders into their squad which includes Dong Geon Lee (12.50 lakhs), Abolfazl Maghsodlou Mahali (13 lakhs), More G B (25 lakhs), Deepak Narwal (26.50 lakhs) and the highest bid raider for them is Chandran Ranjit (80 lakhs). Thus, it shows that they had good quality of 2nd and 3rd raiding options. Along with Pawan Kumar Sehrawat, an elite retained player and as captain of the team with Bunty, existing new young player will have to lead the team as their 1st raiders to their full-fledged potential.
During the auction, they had invested a lot on youngsters in terms of raiding and defending departments as well. After they released Rohit Kumar, it helped them to spend good amount of money in order to build their team in auction. In this season, we can expect good number of new young players playing for them. Thus, lots of work needs to be done by their 1st raider i.e. Pawan Sehrawat.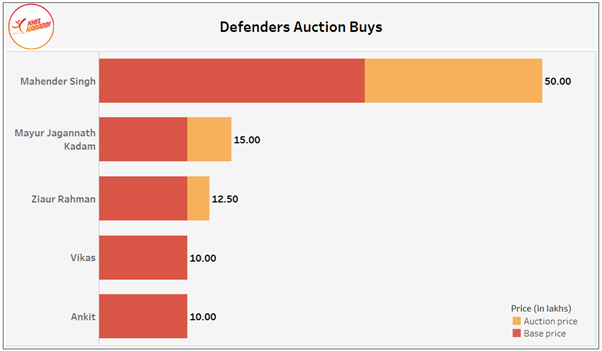 Here, it is observed that they had brought 5 defenders into their squad which consists of Ankit and Vikas (10 lakhs) at base price both from category C, Mayur Jagannath Kadam (15 lakhs) a right cover defender and Ziaur Rahman (12.50 lakhs) a left cover defender both at quite cheap price and their highest bid in defenders department went for Mahender Singh (50 lakhs) again a left cover defender. Overall, their defending department looks quite stable but still due to inexperience and too young defenders they might have look into it deeply.
Retained players from defending department will play a vital role in progress of their team into the season. Amit Sheoran, elite retained player from category B and Mohit Sehrawat, right corner and Saurabh Nandal, left corner all these players will have to play to their potential throughout the tournament.
It is quite surprising from Bengaluru Bulls that they haven't gone for anyone from all-rounders department in the auction. Whereas, they haven't retained anyone from all-rounders as well. Thus, it seems like they are more dependent or confident on their raiding and defending departments. Let's, see if any situation occurs where team expects from a defender to score points in critical context of the game how will they deal with that situation.