PKL Season 8 Auction Series: Will Pradeep's inclusion change fortunes for the Yoddhas?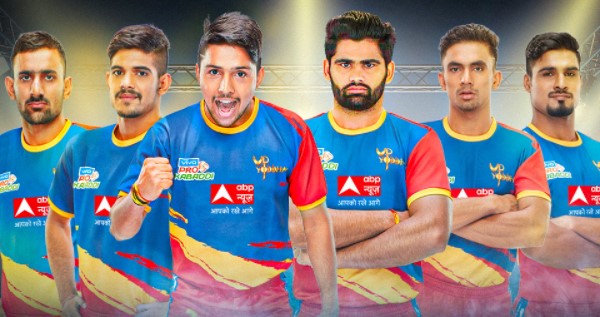 – Saiprasad Kagne
UP Yoddha made history in the PKL Auction by signing Pardeep Narwal at a massive INR 1.65 crore which eventually made him the costliest player in the PKL auction history. Team's trust shows that how impactful he will be to them in season 8.
In this article, we will have a look at their auction buys in each department i.e. Raiders , Defenders and All-rounders through an analysis.
In the raiding unit, they have bought a bunch of players in their squad i.e. Ankit, Gulveer Singh, Masud Karim, Sahil and Mohammad Taghi Paein Mahali at nearly their base prices except Shrikant Jadhav and Pardeep Narwal at (INR 72.165 lakhs) and (INR 1.65 crore) respectively. Pardeep and Shrikant will lead the raiding department as frontline raiders, combination of these 2 players will surely score huge number of points for the team.
On the other hand, they have only these 2 experienced players in raiding unit which creates a lot pressure on them to score points consistently in each and every match in order to end a game on the winning side. Fitness levels of these players will also play an vital role towards the progress of season as they don't have quality backup options to fill these players place.
In the defense unit, they have bought Gaurav Kumar and Aashish Nagar at their base price (INR 10 lakhs). Along with Nitesh Kumar and Sumit as their solid retained players and Ashu Singh as existing new young player they may perform well in this department.
Similar to the raiding unit, combination of Nitesh and Sumit will again benefit them to score plenty of points in corner zones. But, lack of depth in defense might affect them a lot in terms of weak supporting defense or more attempts for advanced tackles.
In the allrounders unit, they have bought only 1 player i.e. Gurdeep (INR 10 lakhs) and they haven't retained anyone from allrounders unit. As they already had lot of youngsters in the squad, management must have searched for some experienced players in the auctions which they couldn't get in the team. However, they had only few players from Category A or B while rest of them are from remaining categories which again will affect them in terms of decision making.