Pro Kabaddi Referee ditched Dahi Handi to organize a blood donation drive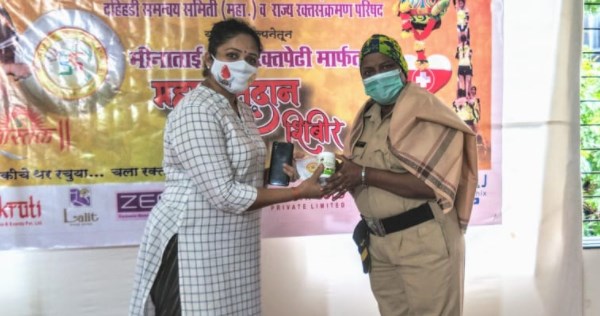 The last four months have seen a very serious situation in the state of Maharashtra and the country due to the increasing prevalence of corona.
Now that the situation is little under control, the government has imposed restrictions on public celebrations as a precaution. This has hit the public Dahihandi festival in Mumbai. Corona has ruined the financial calculations of many Govinda Pathaks.
However, many Govinda Pathaks, aware of the situation, decided to cancel this year's Dahihandi festival. Responding to the call of the Dahihandi Co-ordinating Committee leading the Govinda Pathaks in the state, the Swastik Dahihandi Pathak in Mumbai also decided to cancel this year's Dahihandi festival. Instead, the team has shown its social consciousness by organizing a blood donation camp.
Aarti Bari, the director of the squad and a pro kabaddi referee, has a big role in this. Along with the blood donation camp, Bari also felicitated the police personnel of Goregaon Police Station who have been working tirelessly during COVID outbreak.
Swastik Mahila Dahihandi Pathak has been in existence since 2005 and in 2014, they also demonstrated Dahihandi at Times Square in New York. Bari also serves as the Treasurer of the Maharashtra Dahihandi Co-ordinating Committee. In response to the government's call, Bari is being praised by the kabaddi sector for carrying out social activities by avoiding the Dahihandi festival.