Pro Kabaddi Season 6 Schedule declared, Mumbai to host the finals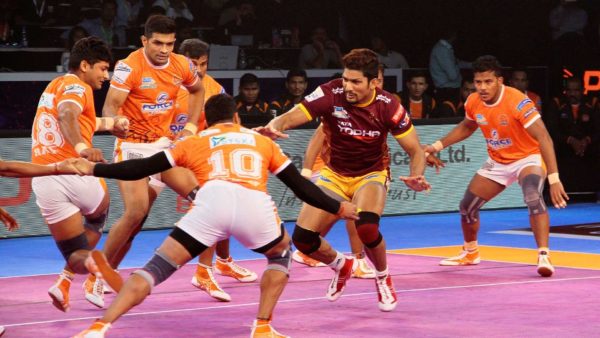 Mumbai: Pro Kabaddi Season 6 will commence from 5th October 2018 in Chennai. The full schedule is declared and this is how the teams are going to fight for the trophy.
13 venues 12 teams and a total of 75 days non-stop Kabaddi action is on the cards for the viewers. Chennai will begin the season and the play-offs and final will take place at Mumbai.
Pune League will commence from 18th to 25th of October 2018 after the Chennai and Sonipat (Haryana) Leg. The Mumbai Leg will see the league stage end and Kochi would there after witness the Playoff matches. Kochi will have 4 playoff matches with 3 Qualifiers and 1 Eliminator on 30th and 31st December 2018 and Mumbai would host 1 Eliminator on the 3rd of January 2019 and the much awaited Final on Saturday 5th January 2019.
TIMETABLE – 
Chennai Leg – 5th to 11th October 2018
Sonipat Leg – 12th to 18th October 2018
Pune Leg – 18th to 24th October 2018, Inter Zone Week
Patna Leg – 26th October to 1st November 2018, Inter Zone Week
UP, (Noida) Leg – 2nd to 8th November 2018
Mumbai Leg – 9th to 15th November 2018, Inter Zone Week
Ahmedabad Leg – 16th to 22th November 2018, Inter Zone Week
Bengaluru Leg – 23rd to 29th November 2018
Delhi Leg – 30th November to 6th December 2018, Inter Zone Week
Hyderabad Leg – 7th to 13th December 2018, Inter Zone Week
Jaipur Leg – 14th to 20th December 2018
Kolkata Leg – 21st to 27th December 2018, Wild Card Week
Kochi Leg – 30th December 2018, Qualifier 1 and 2, 31st December, 2018 Qualifier 3 and Eliminator 1
Mumbai Leg – 3rd January 2019, Eliminator 2 and 5th January 2019 Final
1⃣3⃣ venues
1⃣2⃣ teams
7⃣5⃣ days of action-packed kabaddi Here's how the #kabaddi bandwagon will take over the country come #ProKabaddi Season 6! pic.twitter.com/GfMnM4dPw9

— Khel Kabaddi (@KhelKabaddiNews) August 22, 2018