Pro Kabaddi's Top 5 Foreign Players to lookout for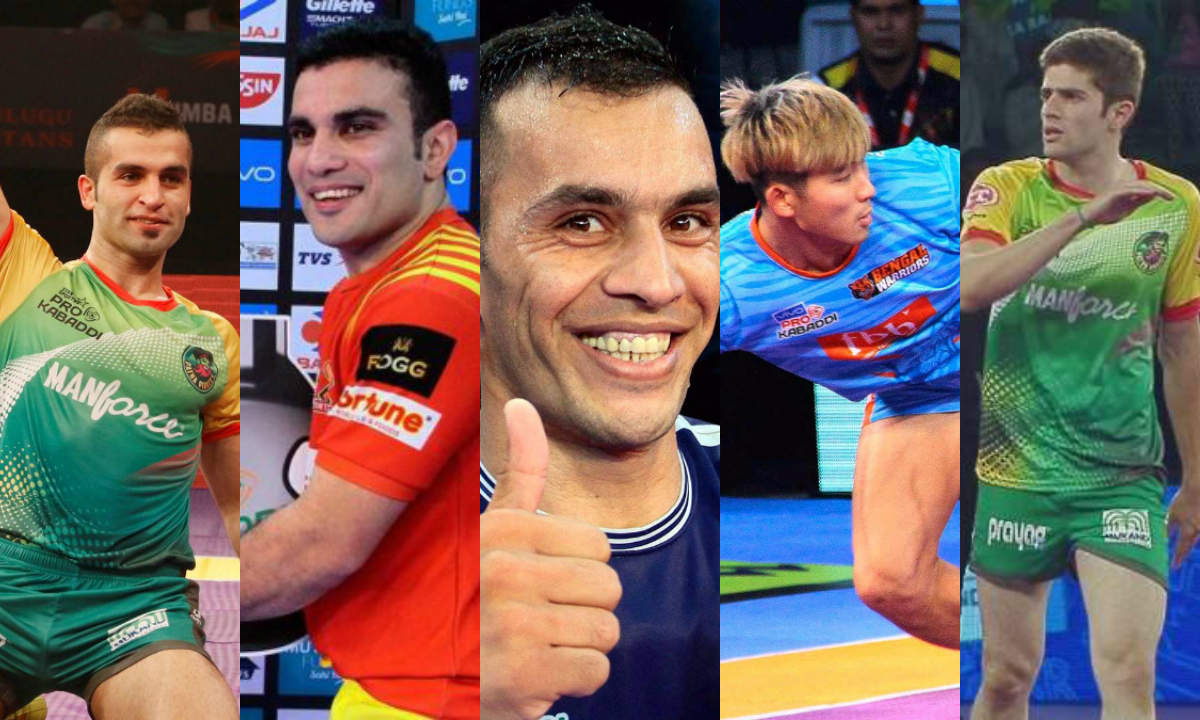 Despite Kabaddi being an indigenous game it has now reached all over the world. Pro Kabaddi League which started in 2014 has played a big role in making Kabaddi globally popular.
We have seen many domestic players who have emerged from PKL who have become global icons in every sense. Right from season 1, there have been many foreign players who created impact since their very first game in the league. They become an integral part of the team that played from.
Here's a list of foreign players who can make a difference with their experience and skill-set in the Pro Kabaddi League's 6th Season:-
1) Fazel Atrachali
In the auctions of PKL season 6, Iran Kabaddi Team captain Fazel Atrachali became the first foreign player to be sold for Rs.1 Cr. After a gap of 2 seasons, Fazel is back with U Mumba. He has 152 tackle points to his name from 56 matches. In season 2 he scored 11 tackle points as he did not get the chance in starting seven. Next season he got a chance in starting seven. He played well and managed to score 32 tackle points from 11 matches. After he was purchased by Patna Pirates for season 4 we saw a different Fazel who grabbed 52 tackle points from 16 matches and became 'Best Defender of the Season'. He was signed by Gujarat Fortunegiants, where he scored 57 tackle points in 24 matches. Fazel is a brilliant player with his dashes and ankle holds. U Mumba now will be expecting the same from him in season 6.
2) Abozar Mohajermighani 
Iranian star defender Abozar Mohajermighani is with the Telugu Titans team in season 6. He performed outstandingly well in his debut season for Gujarat Fortunegiants. He had 65 tackle points to his name from 24 matches. His partnership in defense with Fazel was instrumental for Gujarat Fortunegiants and this Iranian duo made sure their team entered the final. Both of them were the strong pillars of Gujarat Defense. Before PKL season 5, Abozar played 2016 Kabaddi World Cup. This wrestler-turned defender had a great a debut in PKL. Due to his wrestling abilities, Abozar is phenomenal with his dashes and blocks from the right corner. Telugu Titans purchased Abozar for Rs. 76 lakh. It will be interesting to see how raiders save themselves from the dashes and blocks of this new 'Wall of Defense' in season 6 of Pro Kabaddi.
3) Meraj Sheykh
Meraj Sheykh has been one of the best all-rounders of PKL. He will be seen playing for Delhi once again as he was retained by the team. He has scored 250 raid and 15 tackle points in 63 matches. Meraj was part of Telugu Titans in first three seasons. Since season 4 he has been playing for Delhi. He is always at his best and especially when the team needs in a critical situations. Meraj scored 29 raid points and 9 tackle points in season 2. In season 3 he claimed 27 raid points & 21 tackle points. Meraj was signed by Dabang Delhi K. C. in season 4. He played 14 matches and scored 63 raid & 12 tackle points. Meraj was captain of the Delhi team in season 5. In 20 matches he got 96 raid & 8 points to his name. Meraj is one of the most dependable players of the league. He is one of the most reliable players of the team.
4) Jang Kun Lee
South Korean Kabaddi Team Captain Jang Kun Lee is one of the most consistent players of PKL. Lee will represent Bengal Warriors for the consecutive 6th time. It's a one of its kind record jointly held by Jang Kun Lee and Rahul Chaudhari of Telugu Titans which makes them 'Loyal Players'. Bengal relies on Jang Kun Lee for the do-or-die situation as he scores bonus and hand touches in those situations. Jang Kun Lee scored 55 raid points from 11 matches in season 1. In season 2 he managed to get 48 raid points in 14 matches. His bettered his performance in Season 3 where he claimed 79 raid points in 15 matches. Lee scored 61 raid points in season 4 from 11 matches. Due to injury, Lee had to miss some matches in season 5 but he still managed to score 89 raid points in 21 matches. Bengal will look to make most out of this stupendous player.
5) Abolfazl Maghsoudloo Mahali
The Iran dominance continues in the list as Iran in the recent past has produced some of the most remarkable players in Kabaddi.
Iranian raider Abolfazal Maghsoudloo Mahali who was part of U Mumba before joining Patna Pirates in season 4 and Dabang Delhi K.C. is back with the team. He played well in last season by taking 97 points from 19 matches. When Abolfazal was in U Mumba he did not get enough chances to show his skills. He was purchased by Patna Pirates in season 4. In 9 matches he scored 25 raid points. Most of these came in situations where the team was either in a condition of getting all out or the raid was a do-or-die one. The picture was different in season 5 as Abolfazal was a regular part of Delhi's starting 7. He performed very well by scoring 91 raid points in 19 matches. Abolfazal will be a prime raider for U Mumba in season 6.
The recently concluded Asian Games saw some phenomenal performances from these players for their teams Iran and Korea. Iran emerged victories in the Asian Games thanks to the efforts of these talented individuals. Their respective teams in the Pro Kabaddi will also be expecting a similar kind of performance to outclass their opponents.