Probable captains who can lead their side in the upcoming PKL Season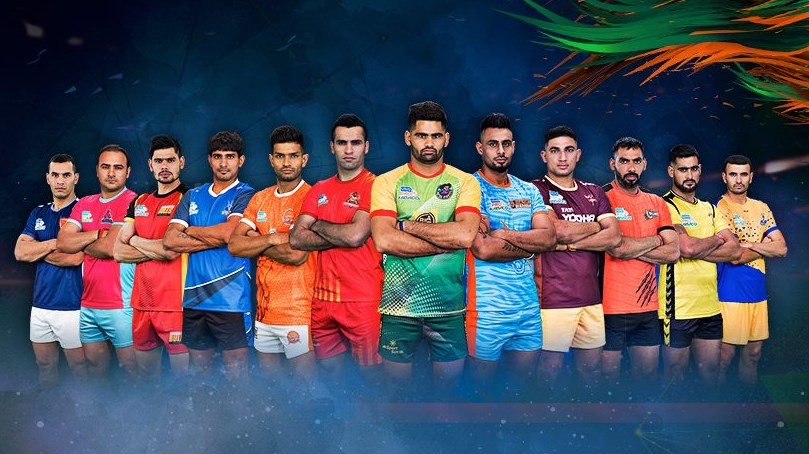 A captain is a person who has significant responsibility for the strategy and teamwork while the game is in progress on the field. He is the man who implements the strategies initiated by the coach before the game. In Kabaddi, the captain gives confidence to his team, to have a positive attitude especially in demanding situations.
Pro Kabaddi League is to commence from 7th October 2018. 12 teams will fight it out for the crown of champions. 3 months of non-stop Kabaddi action will begin in just 20 days. Here are the captains who might lead their respective teams in PKL season 6:
1) Surjeet Singh, Bengal Warriors
Surjeet Singh, is one of the best right covers of the Indian Kabaddi Team. He has taken 161 tackle points from 50 matches. His stats show why he was retained by the Warriors. He was also the captain of the team in season 5. Under his captaincy, Bengal Warriors reached the playoffs last season. Bengal managed to win 11 matches in the league stage. There is a possibility of Surjeet leading the team once again.
2) Rohit Kumar, Bengaluru Bulls
Rohit was the deserving recipient of the Most Valuable Player (MVP) award in his debut season 3. Rohit Kumar one of the best raiders of the league. He has scored 414 raid points from 48 matches. He has scored a century of points in each season since his debut in season 3. Rohit was the captain of the Bengaluru team in the previous season. Bengaluru Bulls had won 8 matches out of 22 they played. He is retained by the team. Bengaluru Bulls may give Rohit a chance to prove his mettle as a skipper once again.
3) Meraj Sheykh, Dabang Delhi K.C.
Iranian all-rounder Meraj Sheykh has been one of the best all-rounders of PKL. He has scored 250 raid and 15 tackle points in 63 matches. Meraj was part of Telugu Titans in first three seasons. Since 4 he has been playing for Delhi. He always gives his best whenever the team needs him. Meraj was the captain of Iran Kabaddi Team which won Silver in 2016 Kabaddi World Cup. He had led the Delhi team in season 5 as well. Delhi won 5 matches under the captaincy of Meraj. Once again, we might see Meraj lead the team.
4) Mahendra Rajput, Gujarat Fortunegiants
Mahendra Rajput was retained by the team in this year's auction. While playing from Fortunegiants, he brought in points whenever his team was in critical situations. He has scored 152 raid points from 49 matches. He supported Sachin very well in the last season. Gujarat is the runner-up of last season of PKL. Since the Gujarat team has many young players in the team Mahendra Rajput can be chosen as a captain of the team due to his experience.
5) Surender Nada, Haryana Steelers
Surender Nada is one of the best defenders of PKL. He has scored 239 points in 70 matches. He topped the list of most tackle points last season grabbing 80 points in 21 matches. Last season, the new entrant Haryana Steelers were successful in reaching the playoffs and Surender Nada was the captain of that team. They won 13 matches under his captaincy. And once again he might be given the responsibility of leading the team.
6) Anup Kumar, Jaipur Pink Panthers
Anup was the captain of U Mumba since season 1. He has scored 489 raid points and 57 tackle points in 70 matches. Anup won PKL season 2 title for U Mumba. In season 2 & 3, Anup's U Mumba was the runner-up of PKL. By far, Anup has been the most successful captain in the Pro Kabaddi League. Even if he fails as a raider his presence has proved to be a morale booster for the team. Jaipur might not miss this chance to make him their captain.
7) Pardeep Narwal, Patna Pirates
Pardeep Narwal has been very consistent from season 3. He has 625 raid points to his name from 64 matches. In last season, he was appointed as a captain of the team. He led the team to their third title. Talking about individual performance, Pardeep was the top raider in last season with record-breaking 369 raid points in 26 matches. Pardeep might lead the team once again in season 6.
8) Nitin Tomar, Puneri Paltan
Nitin Tomar was part of UP Yoddha in season 5. But now he is back with Puneri Paltan after a gap of one season. This left raider has grabbed 292 points from 42 matches. He will be the prime raider for Paltan. Nitin was captain of the UP Yoddha team in last season. UP Yoddha was successful in entering to the playoffs. Along with Nitin, Sandeep Narwal who led Patna Pirates in season 2 can be a good contender for the race of captain-ship of Puneri Paltan.
9) Ajay Thakur, Tamil Thalaivas 
In last season Ajay Thakur led a young team of Tamil Thalaivas. His individual performance was best as he stood third in the most raid points scorer chart. He scored 213 raid points and 9 tackle points from 22 matches. As a captain, he won 6 matches for Tamil Thalaivas. He led the team from the front. Tamil Thalaivas obviously retained him for the season 6. Ajay might face competition from Manjeet Chhillar for the captaincy position. Manjeet has played all PKL seasons as a captain. In fact, Ajay had played first four seasons under his captaincy. Manjeet being injury stricken they might go for Ajay to lead the pack of players. Ajay is also the captain of Indian Kabaddi Team, which might be a bonus for him as a result Tamil Thalaivas management might decide to make him captain.
10) Rahul Chaudhari, Telugu Titans
Rahul Chaudhari is the most successful raiders of PKL history. He has scored most 666 raid points from 79 matches. Rahul has been one of the most prolific raiders in the Pro Kabaddi League. Under Rahul's captaincy, Telugu Titans won 7 matches in last season. He also captained Telugu team in previous seasons. So Rahul might captain the Telugu Titans team in season 6 of Pro Kabaddi League as well.
11) Fazel Atrachali, U Mumba
Fazel has 152 tackle points to his name from 56 matches. He was signed by Gujarat Fortunegiants, where he scored 57 tackle points in 24 matches in season 5 of PKL. Fazel Atrachali is also Iran's Kabaddi Team captain. Under his captaincy, Iran Kabaddi Team recently won the Asian Games Gold medal for the first time. Fazel might be given the responsibility of captaining U Mumba in season 6.
12) Rishank Devadiga, UP Yoddha
Rishank has 490 points in 80 matches to his name. He was part of U Mumba before switching to UP Yoddha last season. Rishank is one of the best players that Pro Kabaddi has ever produced. Rishank led the Maharashtra team to win the 65th National Kabaddi Championship 2017-18. UP Yoddha's previous captain Nitin Tomar has moved to Puneri Paltan this season. Considering these factors, Rishank can be seen as a captain of UP Yoddha