Pune & Ahmednagar emerged as winners at 69th State Kabaddi Championship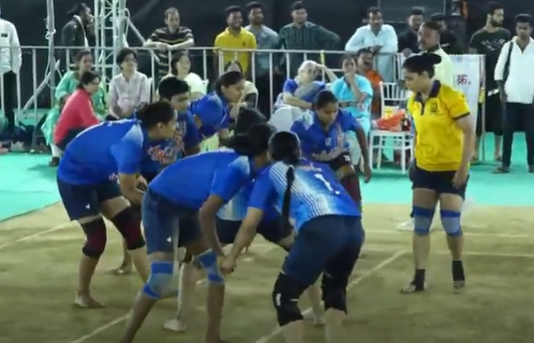 Maharashtra State Kabaddi Association & Hindavi Yuva Pratishthan, Kalher, Bhiwandi Taluka, Bhiwandi district conducted 69th State Kabaddi Championships. The competition was held from 28th February to 3rd March.
On the grounds of Bandrya Maruti Ground, Kalher, Bhiwandi Taluka, Thane district, Pune in women's category maintained their consistency while Ahmednagar in men's category clinched their historic first title.
Pune women's team defeated Mumbai City women's team 28-24. It is their 14th title out of last 16 State Kabaddi Championship Tournament. Mumbai Suburb got third place as they defeated Palghar district.
Earlier in the semi-finals, Pune city crushed Mumbai Suburb 41-35 & Mumbai City managed to defeat Palghar 36-29 to reach the final of 69th State Kabaddi Championships.
In men's category Ahmednagar Kabaddi team won their first ever title as they thrashed Mumbai City Kabaddi team in the final match. The match was tie in 40 minutes. Then after also it was draw when 5-5 raids to both the teams.
Ahmednagar team won the championships in golden raid due to their skipper Shankar Gadai scored the point. Dhule team defeated Mumbai Suburb to get third place. Before that Mumbai City defeated Dhule 22-21 in first semi-final.
In the second semi-final, Ahmednagar cruise past Mumbai Suburb. The game was tie in 40 minutes. In 5-5 raids to both teams Ahmednagar defeated Mumbai Suburb.
For the first time in tournament history Dhule team & Ahmednagar teams had entered the semi-finals. 20 best performers from this tournament will be part of state team for Senior National Tournament.