Pune and Mumbai city clinched the title at Junior State Level Kabaddi Championship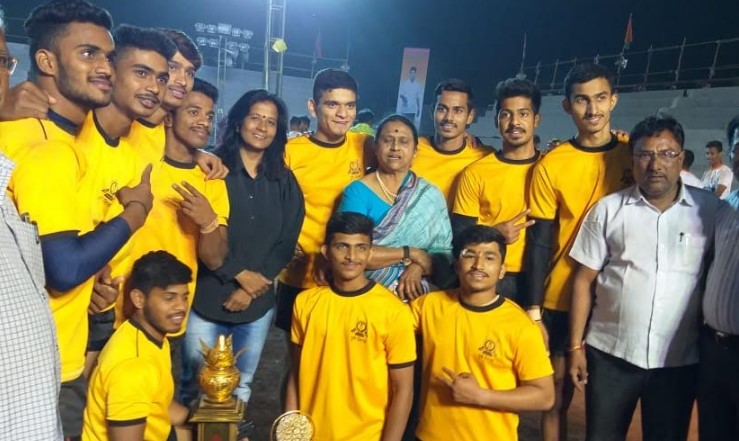 Maharashtra State Kabaddi Association recognized, Parbhani District Kabaddi Association in association with Dnyansangopan Sewabhawi Sanstha, Jintur organized Junior State Level Kabaddi Championship and selection trials for the girls and boys. The tournament was held at Kabaddi Maharshi Late Shankarrao Buwa Salawi Kridanagari, Nutan College Ground.
In the boy's section, Pune city won the 'Late Narayan Nagu Patil Trophy' after beating defending champions Kolhapur 43-24. Whereas Mumbai city lifted 'Late Chandan Sakharam Pandey Trophy' in girl's section as they beat last year's finalist Satara 33-32.
Pune was in the lead over Kolhapur till first half 18-16. They inflicted an all-out over Kolhapur at the fifth minute of the game. Meanwhile match turned in the favor of Pune as Kolhapur got all-out for twice.
Abishek Bhosale, Pawan Karande, Abhijit Chaudhary turned out to be heroes for Pune as they won by the huge margin of 19 points. From Kolhapur, Sourabh Patil, Tejas Patil, Prathamesh Salwi gave their all but was not enough to win the match.
Unlike boy's section final match, girl's section final match was a thrilling one. Bonus point by Mumbai proved to be valuable for them. Mumbai City inflicted two all-outs on Satara with aggressive raiding and strong defense and took the lead 21-06 over them.
Sonali Helawi opened the door for Satara to come back in the game. Mumbai also slow down their game. Vaishnavi and Pratiksha supported her and Satara returned the all-out on Mumbai City. But the bonus point did not allow them to win the match. The offense of Pratiksha Tandel, Runali Bhuwad, and defense of Jagruti Ghosalkar, Jyoti Dafale were the main reasons behind this victory of Mumbai City.
Mumbai City won this title after 5 years. Before this, they won it at the competition which was held at Wada, Thane in November 2013. In the semifinals, Pune beat Palghar and Kolhapur beat Thane to enter the finals in boy's section. In girl's category, Mumbai City won over Ratnagiri and Satara defeated Kolhapur to reach the finals.