Pune, Mumbai shines on the first day of Junior State Level Kabaddi tournament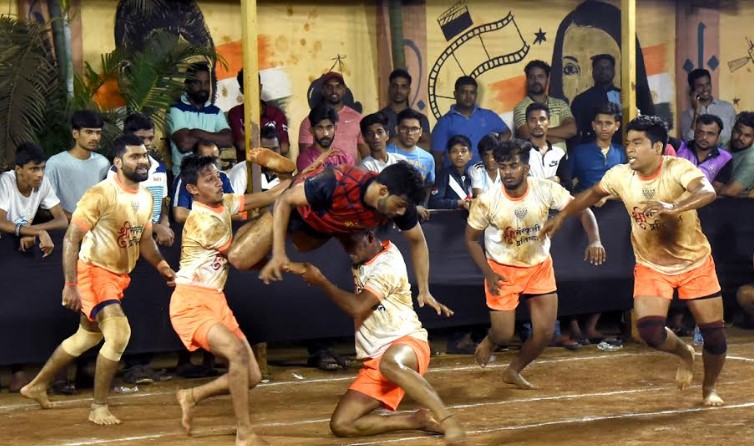 Maharashtra State Kabaddi Association recognized, Parbhani District Kabaddi Association in association with Dnyansangopan Sewabhawi Sanstha, Jintur have organized Junior State Level Kabaddi tournament and selection trials for the girls and boys.
The tournament is being held at Kabaddi Maharshi Late Shankarrao Buwa Salawi Kridanagari, Nutan College Ground from yesterday 7th December to 10th December. Mumbai City, Mumbai Suburb, Pune, Kolhapur, Sangli, Jalgaon and hosts Parbhani won their first match in Boys section. Kolhapur, Satara, and Ratnagiri started with a win in girl's category.
In the F group of boy's category, Mumbai City won over the Latur 54-22 in their first match. The match between Mumbai City and Thane ended up with a tie 32-32 after Mumbai was trailing 14-20. In both these matches, Pankaj Mohite of Mumbai City delivered all-round performance. Avdhut Shinde's raids and Amit Mane's tackles were also highlights of Mumbai's win. Paresh Hnade, Aslam Inamdar of Thane tried their best but could not win the game.
Palghar defeated Dhule in D group of Boy's category 41-09. Rahul Sawar was turned out to be a hero for Palghar whereas Jayesh Suryawanshi of Dhule gave a tough fight but did not win the game. In B group Pune managed to win over Satara 45-25. Pune was leading in the first half 24-15. Shubham Shelke, Mayur Surve and Sujeet Landage's game proved to be significant for Pune.
Talking about girl's category, Mumbai Suburb thrashed Aurangabad in F group 44-12. Shubhada Khot, Pratiksha Mandawkar, Komal Khaire, and Kareena Kamtekar gave good performances. In B group Satara defeated Nashik 46-31 courtesy of Sonali Helawe. Nashik's Nikita Dhore also tried but her efforts went into vain. Ratnagiri crushed Beed 39-10 in C group. Tasmeen Burondkar, Sonali Kadam, Divya Sakpal and Gauri Pawar were contributed in team's win. Beed's Komal Sasane was the alone fighter for her team.
Other Results :
Girls 
1) Kolhapur 60 – 10 Usmanabad (D Group)
2) Ahmednagar 45 – 19 Parbhani (E Group)
Boys
1) Palghar 41 – 09 Dhule (D Group)
2) Ratnagiri 36 – 28 Sindhudurg (B Group)
3) Kolhapur 43 – 34 Nashik (A Group)
4) Sangali 48 – 25 Solapur (C Group)
5) Thane 63 – 25 Jalna (F Group)
6) Parbhani 51 – 30 Hingoli (A Group)
7) Jalgaon 50 – 23 Nandurbar (D Group)
8) Mumbai Suburb 52 – 16 USmanabad (C Group)