Rahul Chaudhari vs Vinay Tewatia, PKL7 comparison
Saiprasad Kagne
Rahul Chaudhari, the superstar of the game has been playing PKL since its 1st edition and improving his skillsets season after season. After playing 6 seasons for Telugu Titans, last season he was brought by Tamil Thalaivas. Vinay Tewatia played only 1 season of PKL and successfully made most out of it by finishing the season in the top 15 raiders of the tournament.
Analysis of Rahul Chaudhari's Performance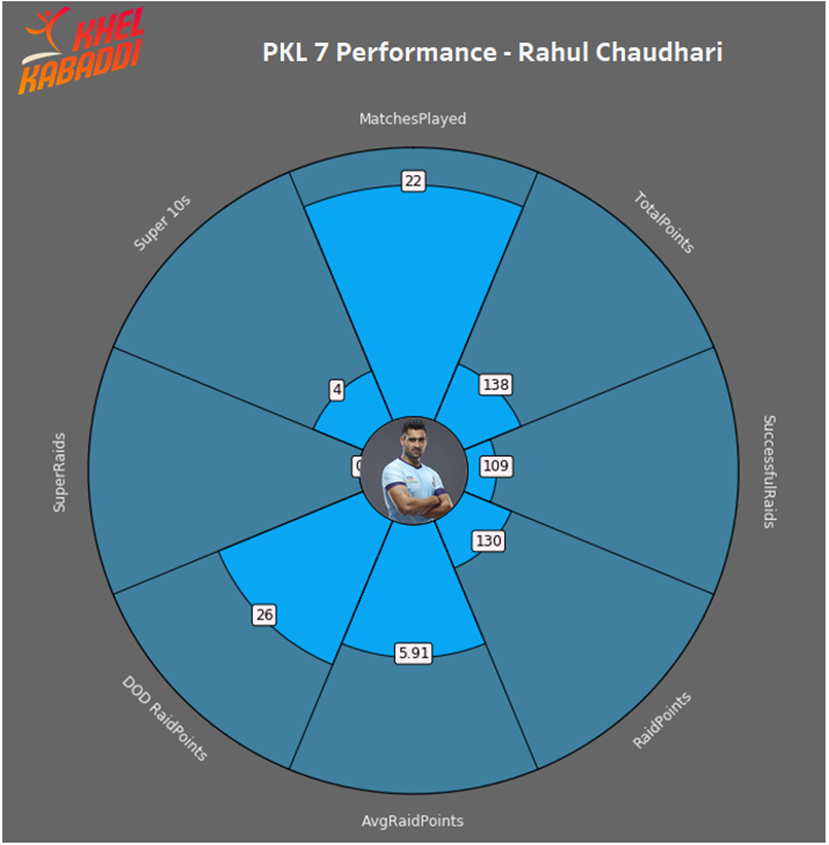 In the above chart, it is noticed that Rahul played 22 matches for his team Tamil Thalaivas. He is known as 'Showman' due to his stylish and energetic raiding technique. Except one season of PKL i.e. 3rd edition with 99 total points, Rahul was consistently scoring 100+ total points each season. This conveys us about his quality. In the last season, he scored 138 as total points, 109 successful raids, 130 raid points, 0 super raids, 4 super 10s, 26 do or die raid points, 40% raid strike rate and with an average raid point of 5.91. He also became the 2nd player to score 1000 points in PKL history last season.
Analysis of Vinay Tewatia's Performance
Here, we can observe that Vinay played 23 matches for his team Haryana Steelers. Initially, he was the member of New Young Players (NYPs) initiative of PKL. Through this program, Vinay got a chance to play for Haryana Steelers. As a youngster, to get 23 matches to play in his debut season itself is a commendable achievement. In last season, he scored 129 as total points, 90 successful raids, 125 raid points, 6 super raids, 3 super 10s, 15 do or die raid points, 54% raid strike rate and with an average raid point of 5.43. His signature move is known as 'running hand touch' in which a raider approaches to the defender in very sudden increase in speed and stretches his whole body for a rapid hand touch before running off to safety.