Rajmata Jijau Team won the title of State Level Championships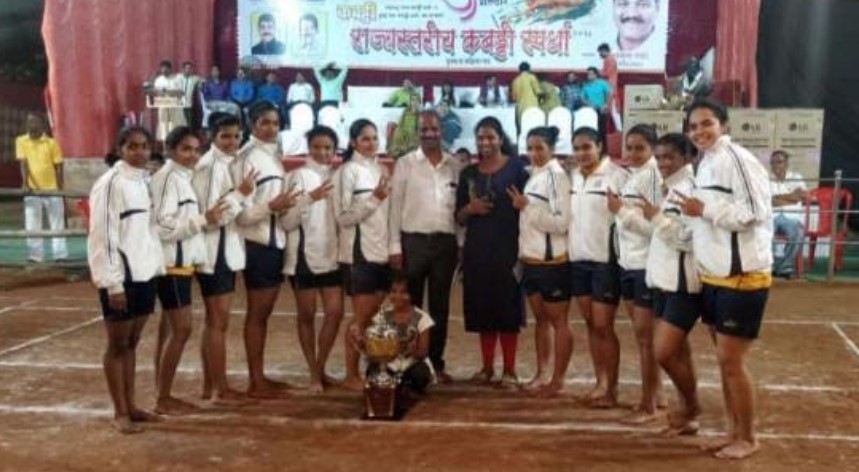 Rajmata Jijau Team, Pune clinched a victory over Shivshakti, Mumbai 31-27 to win the 'Shivai Chashak' trophy and cash reward of Rs. 30,000 in Shivai Pratishthan organized State Level Championships. In men's category, Ankur crushed Amar 40-25 and won 'Shivai Chashak', cash rewards Rs. 50,000. Shivshakti's Apeksha Takale in Women's category and Ankur's Sushant Sail in Men's category awarded as Best Players and both were given color Television set of 21 inches. Shivshakti awarded with a cash prize of Rs. 15,000.
The final match was played at Shramik Gymkhana Ground, Mumbai where Rajmata Jijau Team was in the lead as 12-08 over Shivshakti. Rajmata, Shivshakti and Mahatma Gandhi club were counted as strongest teams as they were with full preparations and strength.
Rajmata Team won the title courtesy of Sayali Keripale's all-round performance with Snehal Shinde, Neha Ghadge in offense and Palvi Jamdade, Ankita Jagtap in defense. Pooja Yadav, Apeksha Takale, Pournima Jedhe of Shivshakti tried their best but could not win the game. Before this Rajmata beat Mahatma Gandhi Club 42-28 and Shivshakti Club defeated Dr. Shirodkar 96-12 in the semi-finals to enter the finals. These two semifinalists were given the trophy and a cash reward of Rs. 7000 each.
It was a one-sided proceeding in Men's category as Ankur Club took the lead 18-10 over Amar Club after the first half got over. Sushant Sail, Ajay Devade's raids, and Kisan Bote, Milind Kolate's tackles were the main reason behind this lead. They paced their game in the second half and won comfortably. Sanket Sawant, Rohit Adhatrao, Nitin Vichare's efforts went into vain.
They were given trophy a and cash reward of Rs. 30,000. Ankur Club thrashed Om Kabaddi 43-22 and Amar Club won over the Vijay Bajrang 36-20 in the semi-finals and booked their places in the Final. These two semifinalists were got the trophy and a cash reward of Rs. 10,000 each.
Rohit Adhatrao and Sanket Sawant of Amar Club awarded as the Best Raider and Best Defender Award respectively in Men's category. Talking about Women's category these awards were given to Mahatma Gandhi Club's Pooja Keni (Best Raider) and Rajmata Jijau's Sayali Keripale (Best Defender). Power Coolers were gifted to these four players. The championship received a huge response from the audiences as this was the first state championship of this season in Mumbai.