Reasons why India lost so badly at the hands of Iran at Asian Games 2018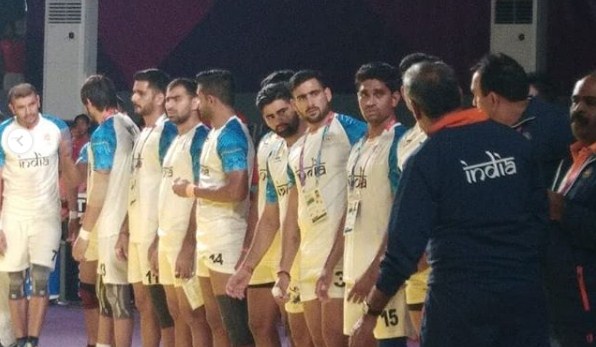 India's supremacy in Kabaddi came to an end as India lost to Iran in the semi-final at Asian Games 2018 at Jakarta, Indonesia. In the 28 years of Asiad history, India received Bronze for the first time since its debut at Asian Games in 1990. 7 consecutive Gold medal winning streak was broken by Iran. It was like a nightmare for the whole Indian Kabaddi circle. Let's take a look at what went wrong for the Indian Team in the entire Asian Games this year.
Team Selection Controversy – 
Before the Asian Games began a petition was filed by former player and Arjuna Awardee Mahipal Singh. In that petition one of the main allegation was unfair selection of players for the Kabaddi team participating in the upcoming Asian Games 2018 and accepting money from the players so as to provide them with fake certificates.
Allegations proved right when AKFI (Amateur Kabaddi Federation of India)  announced team of 12 players consisting 7 raiders, 3 defenders and 2 all-rounders. Surprisingly Surjeet Narwal and Surender Nada who gave good performances at Kabaddi Masters were dropped from the team.
Despite poor performances in Kabaddi Masters Raju Lal Chaudhary was selected in the team. Gangadhari Mallesh too was an unknown name for the Kabaddi fans. In reply to the petition, High Court ordered AKFI and IOA (Indian Olympics Association) to conduct trails post Asian Games. From the players point of view it was doubting their skills and would have a negative impact on the players mind whose selections were fair.
Imbalance in the defense-
Indian team went with 3 defenders Mohit Chillar (Right Corner), Girish Ernak (Left Corner) and Raju Lal Chaudhary (All-Rounder). Deepak Hooda and Sandeep Narwal played at right cover and left cover position respectively. Both were lacking experience of playing at these positions. Surjeet Narwal and Manjeet Chhillar were India's regular cover players and were best at playing in those positions. Left corner Girish Ernak was struggling in the position and Right corner Mohit Chhillar's defense tactics were in shambles.
Over-Dependence on Ajay Thakur-  
In World Cup 2016 India was trailing by 8 points at half-time when Ajay Thakur single handedly won that match for India. But this time he got injured by Iranian defense at the beginning of second half and hence his absence made difference not only as a raider but also as a captain.
Apart from him all Indian raiders failed to make mark in their raids. Pardeep Narwal, Monu Goyat were supporting raiders to Ajay Thakur but they failed to score points against Iran's dependable defense. Rahul Chaudhary, Rishank Devadiga and Rohit Kumar's lack of opportunities to make it to the starting seven amassed more damage to the Indian side.
In the second half of the semifinal when Ajay Thakur got tackled and injured by Iran defense, Rahul was substituted in his place. Rohit Kumar did not even get a chance even after India was near to get inflicted an all-out by Iran defense. Raiding department's performance was below par when it comes to such a solid side like team India.
Lack of International Exposure- 
Apart from the recently held Kabaddi Masters Tournament in Dubai this Indian team had no experience of playing at an International stage. Apart from Ajay Thakur, Deepak Hooda, Mohit Chhillar, Pardeep Narwal most of the players were playing only their second or third international tournament.
Rishank Devadiga, Girish Ernak, Monu Goyat were playing their second international tournament. Rohit Kumar was playing his third international tournament. So collectively they did not have much experience which was required to play a tournament of Asian Games caliber.
Lack of Team Spirit –
The Indian team never seemed to be a 'team'. There was no confidence that they could win a game even after trailing by 4 points or more. It is up to the raiders to make the scoreboard ticking in every raid which did not happen with the Indian side.
Responsibilities in the raiding department were lacking. No one seemed to take that initiative to bring enough points on the board. Similarly on the defense side India showed no intent with combination tackles missing. Lack of team spirit proved to be a vital reason for India didn't make it to their 8th consecutive final of Asian Games.