Sachin shine in the last raid as patna to beat Telugu by 1 point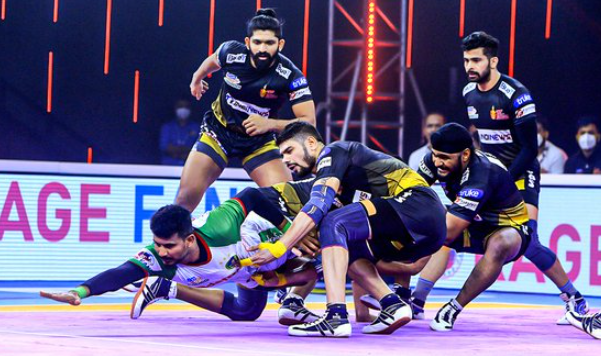 Vivo Pro Kabaddi League season eight witnessed yet another breath taking action. Patna Pirates defeated Telugu Titans in the last minute thriller 31-30.
Skipper Rohit Kumar for Telugu Titans whereas Monu Goyat for Patna Pirates traded points in their first raids. Both team's defense was bang on.
Rakesh Gowda and Ankit Beniwal were taking points for Telugu Titans. On the other hand, Monu Goyat and Sachin gave them tough competition.
Patna Pirates inflicted an all-out on Telugu Titans and led the score at half time 18-13. Telugu did not waste time and repaid it with getting Patna out.
In the last minute Ankit Beniwal took point and Monu Goyat was tackled by Titan's. Ankit got the touch point and levelled the score in his last raid.
All eyes were on Pirate's Sachin and he scored a point. Also he won the game for Patna. He had 6 raid points to his name. Neeraj took 4 tackle points.
Monu Goyat and Patna skipper took 5 raid points each. Telugu raider Ankit Beniwal scored a super 10. Ruturaj Koravi picked up 4 tackle points.
Best Raider: Ankit Beniwal – Telugu Titans – 10 Raid Points
Best Defender: Neeraj Kumar – Patna Pirates – 4 Tackle Points