Shahu Sadeli, Navbharat Kolhapur in Men's section, Rajmata Jijau, Krida Prabodhini in women's section sealed their spot in quarterfinals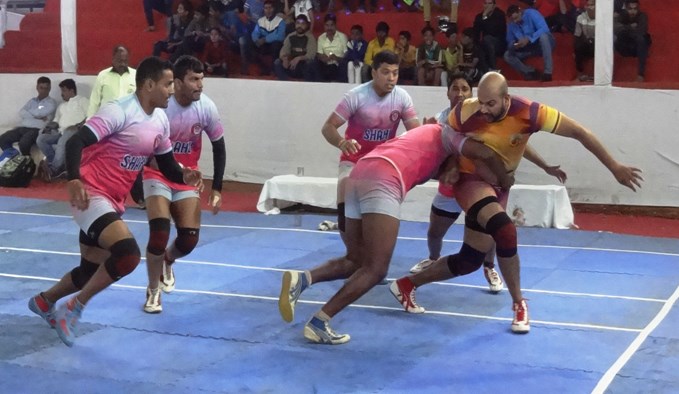 Maharashtra State Kabaddi Association recognized, Pune District Kabaddi Association, Pune Municipal Corporation has organized Pune Mayor Trophy 2019. Sports Committee Associate Rahul Bhandari is the organizer of this Kabaddi Tournament. The matches are being held on Symbiosis College Ground, Vimannagar, Pune.
On the fourth day, Shahu Sadoli Kolhapur won over Daspati Ratnagiri 36-26 in the men's section. They led the first half as 17-11. Tanaji Chavan in raiding and Vivek Bhoite in defence were fabulous for them. Whereas Shekhar Latke and Krusha Sapkale of Daspati Ratnagiri tried their best. But could not succeed.
NTPC team from Nadurbar crushed Krida Prabhodhini Nashik 44-28. At the end of the first half, they had a lead 23-15. Dada Aadhaw, Rushikesh Bankar's raids and Nikhil Shinde's tackles helped NTPC to beat Balaji Prathisthan by a huge margin of 16 points. Krida Prabhodhini's Karan Javre, Rakesh Khairnar and Himansh Shirsath's efforts went into vain.
In the next match, Kolhapur's Navbharat Kabaddi team outperformed Good Morning Mumbai City team 39-22 to go to the quarterfinals. Anand Patil in offense and Sachin Patil in defence performed well. From the losing side, raider Sudesh Kule and defender Ajay Shinde fought well.
Talking about girl's section, Krida Prabodhini team of Nashik thrashed Dharmaveer team 32-25. They had full dominance on the game as they led the first half 19-12. Malti Gangurde, Jyoti Pawar raided well. Vasanti Pawar went for some good tackles. Samruddhi Kolekar in raiding and Sangita Yenpure in defence put a great show. But could not make their Dharmaveer team win.
MH Sports team defeated Raja Shiv Chhatrapati 28-26. They also had a lead 19-12. Pratiksha Karhekar and Chaitrali Karke gave a splendid performance for MH Sports. Siddhi Pol, Mansi Rode and Siddhi Marathe played well for Raja Shiv Chhatrapati team.
Other Results of Pre Quarterfinal Matches :
Men's Section 
1) Rana Pratap 43 vs 29 Nu Ma Vi
2) Bandya Maruti Mumbai City 41 vs 11 Chhava
Women's Section 
1) Rajmata Jijau 30 vs 11 Aniket Team Khed
2) Hanuman Team Bachani35 vs 19 Swarajya Team Suburb
3) Suvarnayug 50 vs 22 Drona Sports
4) Maheshdada Foundation 45 vs 21 Akanksha Kala Krida