Shocking Video: Player dies while playing Kabaddi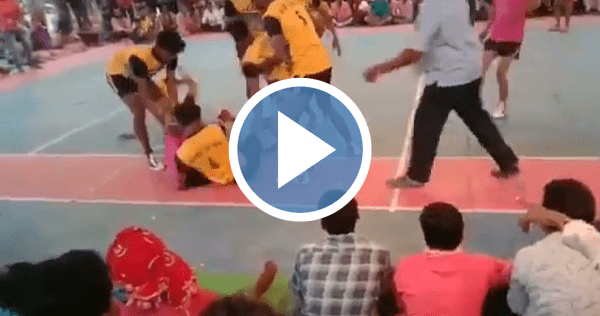 Kabaddi competitions have now started after a long break due Corona. Kabaddi competitions are being organized locally in many villages across the country. A tragic incident has taken place in a similar local competition in Chhattisgarh.
A player has died while playing kabaddi in Goji village in Dhamtari district of Chhattisgarh. The player's name is Narendra Sahu and he was a resident of Kokdi village. Narendra was caught while raiding in the opposition court. He died in this tackle on the court itself.
Chhattisgarh Chief Minister Bhupesh Baghel has expressed regret in a tweet about this incident. "This incident is very sad and we are with Narendra's family in grief," Baghel said. He also appealed to the players to take care of themselves while playing field games.
धमतरी के गोजी गांव में कबड्डी प्रतियोगिता के दौरान खिलाड़ी नरेन्द्र साहू की मौत की ख़बर विचलित और दुखी करने वाली है।

इस दुःख की घड़ी में मेरी संवेदनाएं परिवार के साथ हैं। ईश्वर आत्मा को शांति दे।

प्रदेश के सभी खिलाड़ियों से मेरा निवेदन है कि सुरक्षा का ध्यान रखें।

— Bhupesh Baghel (@bhupeshbaghel) January 21, 2021