Skipper Ajay Thakur blames inappropriate selection for the defeat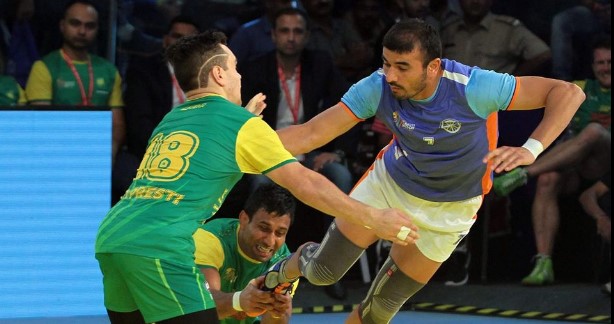 Indian Kabaddi Team lost to Iran in the semifinal and was thrown out of the race for Gold Medal at Asian Games 2018. For the first time in 28 years, Indian Team had to satisfy with Bronze medal. Before the Asian Games, all were hoping for 8th consecutive Gold Medal by the team. But all the dreams were shattered after India's semi-final defeat.
Flawed selection by the AKFI (Amateur Kabaddi Federation of India) was one of those reasons which affected the team's performance. Even before 2 weeks of the Asian Games, a petition regarding this unfair selections was filed by former Kabaddi player and Arjuna Awardee Honappa Gowda.
It was not possible to change the current team for Asian Games as it would have been a waste of precious time. In reply to the petition, High Court ordered AKFI and IOA (Indian Olympics Association) to conduct trails post-Asian Games. Here, AKFI president Mrudula Gehlot and IKF president Janardan Singh Gehlot were removed. While speaking with The New Indian Express skipper Ajay Thakur expressed his problems over the selection of the team.
Asian Games proved to be a nightmare for the Indian Kabaddi fans as the team failed to win the Gold. Indian Skipper Ajay Thakur also blamed the selection mess for their downfall at Asian Games. He said we were frustrated with the selection procedure and pressure on us increased even before we went for the competition.
Internal matters in AKFI also caused a lot of confusion. Some people from the fraternity did not want us to participate at Asian Games. All these things badly affected us psychologically.
Ajay refused to talk about AKFI affairs and controversies. Whereas former AKFI president Mrudul Gehlot also made no comment. She was the president when the selection controversy was unfolding. But later on court intervened and removed her.
The 32-year-old captain admits that their performance was very poor which was not expected by anyone. The dressing room was filled with sorrows. Not only did I cry but the entire dressing room was in tears.
Whatever things we planned did not go that way. We did not have alternative strategies. It was not our day. We have identified what errors we made and we will rectify them. These problems will not persist in future. We will win Gold in Kabaddi World Cup 2019.
Former Indian Team Coach Edachery Bhaskaran told lack of team coordination, inadequate practice sessions, and failures of raiders caused this huge setback. The team was following the same strategy in every match. The selected players had proven themselves in Kabaddi Masters Tournament held at Dubai.
We are still the best in the world. It was just not our day. There was casual and some overconfident approach in practice sessions. We need to change the style of play and surprise rivals like Iran did against us in the semifinals.
Ajay Thakur and Edachery Bhaskaran will be seen as the captain-coach duo for Tamil Thalaivas in season 6 of Pro Kabaddi League which will start from 5th October 2018.