Star studded Delhi squd: Boon Or Bane ?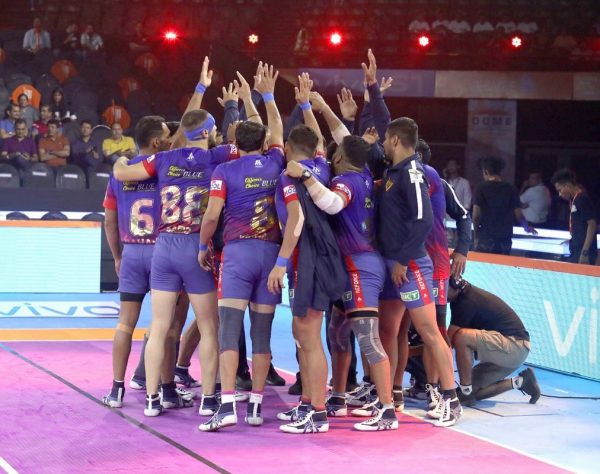 Every coin has two sides. Just like everything has a good side; it has a bad side too. If a thing can benefit you then it can also affect you. But why are we talking like this? Is it related to Kabaddi? Oh yes! These terms can relate to one of the Pro Kabaddi League franchise Dabang Delhi KC.
After two years of long wait Pro Kabaddi League season 8 will be kicked off in Bengaluru on 22nd December. As a part of Covid precautions, only Bengaluru will be the host city this time. Since more than 20 days all the players and coaching staff are in bio bubble for the training.
Delhi based franchise Dabang Delhi KC retained ace raider Naveen Kumar, allrounder Vijay and New Young Players like Sumit, Balram, Neeraj Narwal, Mohit for the season 8. In the auctions, they bought star raider Ajay Thakur. Sushant Sail and Iranian raider Emad Sedaghat Nia are also the part of their squad.
It is expected that Ajay will act as a secondary raider to Naveen Kumar who is their go-to raider. Delhi kept all-rounder Vijay in the squad. Apart from this, Sandeep Narwal and Manjeet Chhillar have become part of the team. If time demands they can be used as raiders as well.
Skipper Joginder Narwal who led Delhi team to season 7 finals was released by Delhi however they managed to get him back to squad. Veteran Jeeva Kumar is also now a Dabang Delhi player. Delhi has too many defenders in the form of Sandeep, Joginder, Jeeva, Manjeet, and Vijay.
When you analyze the squad, there are 'too many stars' in the team. It is said that 'Too many Cooks spoil the Broth'. When many good people are together things may not work due to different opinions. In season 6 and 7 we all saw the same happen to Tamil Thalaivas when Ajay and Manjeet were together there. Coincidently MANJAY duo will play for Delhi also.
On the other hand this 'too much experience' can be beneficial in the interest of the team also. If the coach and captain capitalize on this and players take this as an opportunity to learn, Delhi might end up winning the PKL trophy. For that sake we will have to wait until the PKL starts.