State Level Kabaddi Tournament inaugurated in Jalgaon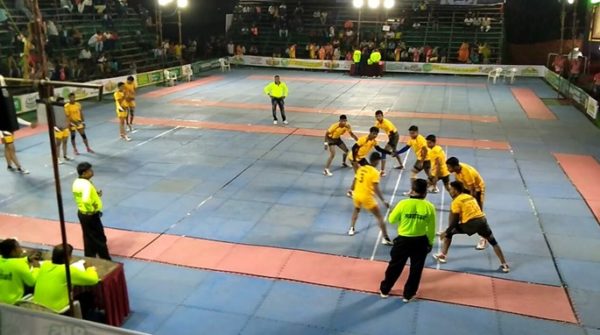 Shivsena Upnagar and Jalgaon District Kabaddi Association organized State Level Men's and Women's Kabaddi Tournament got inaugurated yesterday (21st January) on Shivtirth ground, Jalgaon. The tournament is organized in the memory of Late. Balasaheb Thackeray.
The tournament was inaugurated in the hands of Shivsena Communication Head Sanjay Sawant. State Cooperative Minister Gulabrao Patil, R O Patil, Former Mayor Nitin Laddha, Vishnu Bhangale, Sunil Mahajan, Corporator Amar Jain, Nitin Barde, Jyoti Tayde, Shobha Chaudhari, Mahananda Patil, Sharad Tayde, Kishor Bhosale, Mansingh Sonawne were present on the occasion.
Matches were played in the floodlights. A huge gallery has been prepared for Kabaddi fans to enjoy the matches. On the first day Krida Rasik, Eklavya, Chhatrapati Team Erandol, Krida Prabodhini, Maharshi Foundation, Maharshi Foundation, Maharshi Walmiki and Netaji Subhash Mandal teams won their matches.
Day 1 Results:
1) Krida Rasik 59 VS 08 Mahabali, Bhusawal
2) Eklavya 35 VS 31 Pandav
3) Chhatrapati Team Erandol 48 VS 26 Asoda Team
4) Krida Prabodhini 47 VS 27 Muktai
5) Maharshi Foundation 36 VS 30 Ordnance Factory
6) Satej Krida Mandal, Bhusawal 40 VS 33 Om Sai Mandal, Vikharan
7) Maharshi Walmiki 40 VS 23 Matrubhumi
8) Netaji Subhash Mandal 43 VS 16 Pandav Mandal