Late MLA Appasaheb Gogate Men's And Women's Kabaddi Tournament To Commence From Today In Devgad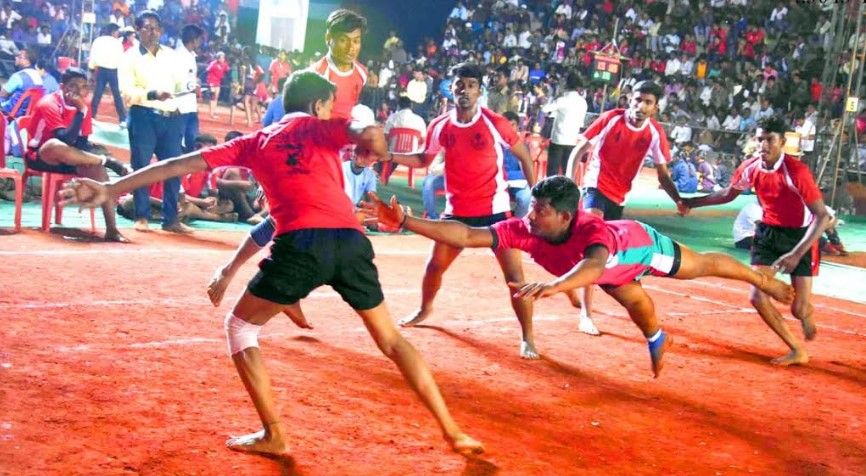 Maharashtra State Kabaddi Association recognized and Sindhudurg Kabaddi Deferation and Devgad Tehsil Kabaddi Association, Jamsande Tehsil organized State Level Men's and Women's Kabaddi Tournament will be held from today 17th to 19th January.
Jamsande Sanmitra Mandal, Jamsande Tehsil Devgad has organized 'Late MLA. Appasaheb Gogate Smritichashak'. From the past 12 years, they are organizing Kabaddi tournament. A gallery has been prepared for approximately 3000 Kabaddi fans for watching the matches. There will be a different gallery for the VIP personalities.
Along with the winner's trophy, there will be different trophies, cash awards and rewards will also be given for the individual performances. Best player of the match will receive a cash award of Rs. 2,000.
Each 12 Men's and Women's teams will take part in the competition. Firstly there will be group stage matches and after that, knockout stage matches will be played at 5 pm in the evening on 4 soil surface grounds.
In the men's' section Utkarsh Krida Mandal will play opening match against Sindhuputra, Koloshi. Whereas in Ankur, Mumbai will take on Sanjeevani, Mumbai Suburb in the opener of women's section. The teams which will take part in the competition are classified as follows :
Men's Section
Group A – 1) Utkarsh, Mumbai Suburb 2) Vijay Bajrang, Mumbai Suburb 3) Sindhuputra, Koloshi
Group B – 1) Chhawa, Kolhapur 2) Om Kalyan 3) Ratnagiri
Group C – 1) Navbharat, Kolhapur 2) Navmaharashtra, Mumbai Suburb 3) Jaybharat, Mumbai Suburb
Group D – 1) Ankur, Mumbai City 2) Ambika, Mumbai Suburb 3) Sindhudurga Boys
Women's Section
Group A – 1) Ankur, Mumbai City 2) Sanjeevani, Mumbai Suburb 3) SM Sindhu, Sindhudurg
Group B – 1) Yashwant Chandji, Mumbai Suburb 2) Aniket, Ratnagiri 3) Kurlai, Palghar
Group C – 1) Swarajya, Mumbai Suburb 2) Devrookh Sports, Ratnagiri 3) Bachani, Kolhapur
Group D – 1) Satyam, Mumbai Suburb 2) Hotkaru, Thane 3) Holly Cross, Sindhudurg