Tamil Thalaivas and Telugu Titans to clash in Southern Derby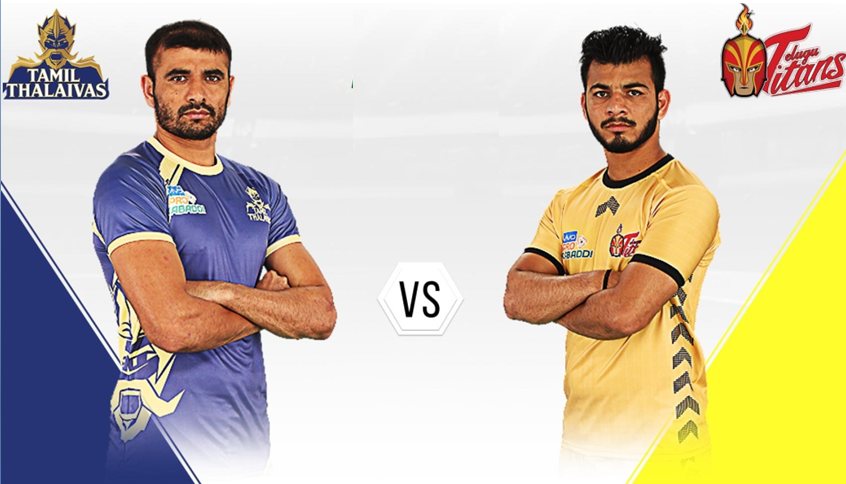 After one-day rest matches will be held in Ahmedabad. Interzone matches week has been over now. Zonal matches will be commenced with a clash of Tamil Thalaivas and Telugu Titans in Zone B. Later this home team Gujarat Fortunegiants will be up against Dabang Delhi K.C.
Team Analysis:
Tamil Thalaivas
The Thalaivas are at bottom of the table. In their previous match, they lost to U Mumba. Skipper Ajay Thakur is the consistent raider for them. Sukesh Hegde and Jasvir Singh have failed to maintain their form. In defense, Manjeet Chhillar and Amit Hooda have shown their skills. But no promising right cover and left corner is biggest worry proved for them. Somewhere D Pradap and Ponparthiban Subramanian have fulfilled those positions. But lacking the team effort.
Telugu Titans
Telugu Titans have won their last match against Puneri Paltan and they rank at fourth position in Zone B points table. They will come with a winning momentum. Rahul Chaudhari, Nilesh Salunke have come up with good raids. Abozar Mohajermighani, Farhad Rahimi Milaghardan, Mohsen Maghsoudloujafari, and young Krushna Madane have formed a good combination of defense.
Head To Head
Tamil Thalaivas 0 – 4 Telugu Titans
Key Battle
Ajay Thakur VS Abozar Mohajermighani
The only thing has gone right and satisfactory for Tamil Thalaivas is their skipper Ajay Thakur's performance. He has clinched 109 raid points from 11 matches. He will get challenged by Telugu Titan's Abozar Mohajermighani who has scored 31 tackle points from 8 matches. He has been phenomenal at his position with his blocks and dashes.
Key Players
Manjeet Chhillar, Tamil Thalaivas
Left cover Manjeet Chhillar has picked 37 tackle points from 11 matches. He is the top defender for Tamil Thalaivas.
Rahul Chaudhari, Telugu Titans
Rahul Chaudhari has cliched 70 raid points from 9 matches. He scored 8 raid points in their last match.
Match Timing
The match will be held at 8 pm (IST) at The Arena By Transstadia, Ahmedabad
TV Broadcasting
Star Sports network will broadcast the match. hoststar.com will also broadcast the match online.
Squads
Tamil Thalaivas
Ajay Thakur, Sukesh Hegde, Surjeet Singh, Darshan J, Manjeet Chhillar, Jasvir Singh, K Jayasselan, Atul MS, Sunil, Chan Sik Park, Anil Sharma, Abhinandan Chandel, D Gopu, Vimal Raj, Jae Min Lee, Amit Hooda, C. Arun, D Pradap, Rajnish, Anil Kumar, Anand
Telugu Titans
Rahul Chaudhari, Abozar Mohajermighani, Farhad Rahimi Milaghardan, Rakesh Singh Kumar, C Manoj Kumar, Sanket Chavan, Mahender Reddy, Nilesh Salunke, Mohsen Maghsoudloujafari, Vishal Bhardwaj, Rakshith, Sombir, Kamal Singh, Ankit Beniwal, Anand, Rajnish, Anuj Kumar, Armaan