Tamil Thalaivas crush Patna Pirates 42-26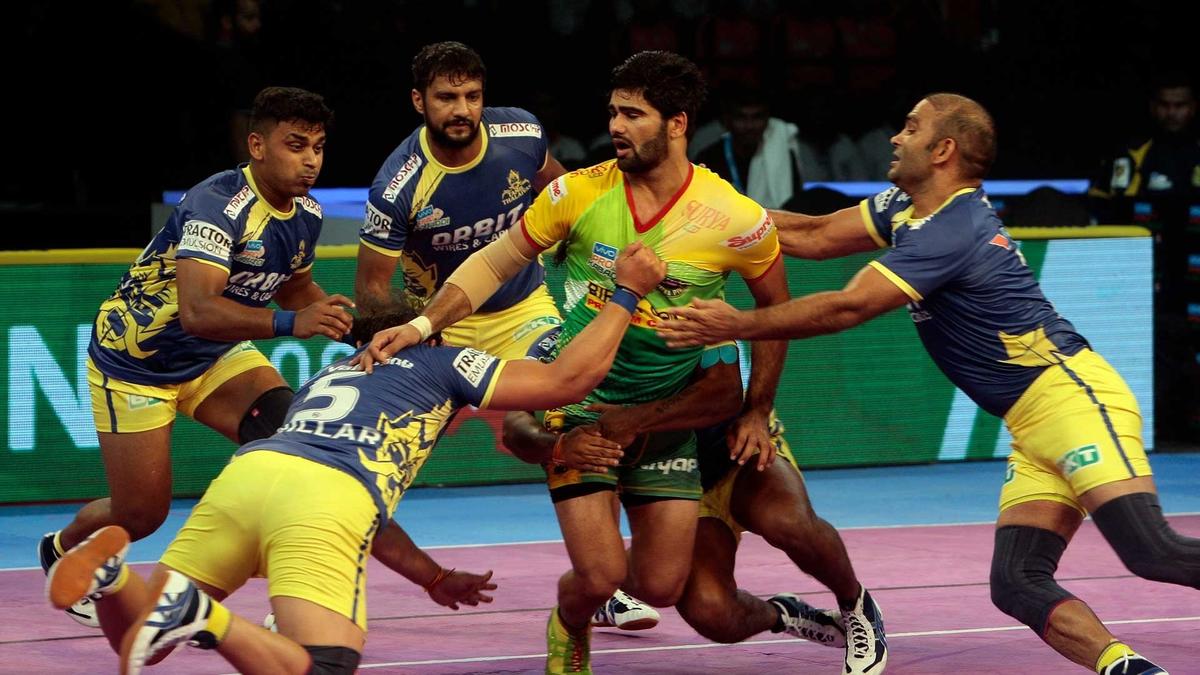 Defending champions Patna Pirates began their title defence on a disappointing note as they crashed to 26-42 defeat against Tamil Thalaivas in the opening match of Vivo Pro Kabaddi Season VI. Skipper Ajay Thakur led from the front for Tamil Thalaivas and scored 14 points to lead his team to victory. Patna's defence was the biggest reason for their downfall as they scored just two tackle points. Pardeep Narwal scored 11 raid points but it wasn't enough to save his team from a crushing defeat.
The Bravest Moment of the match came in the 12th minute from Surjeet Singh as he made a super raid to revive Ajay Thakur, Manjeet Chhillar and Jasvir Singh. Patna Pirates never recovered from that moment as their listless defence couldn't contain Tamil Thalaivas' raiders.
Ajay Thakur got the Thalaivas going with a raid point in the third minute and the defence sent Pardeep Narwal to the bench as they led 2-0. Patna Pirates opened their account with Manjeet getting a raid point. Tamil Thalaivas continued to dominate the proceedings as they reduced Patna to two men and led 6-1 after seven minutes. Tamil Thalaivas inflicted the first all out of the match in the 9th minute to lead 10-2.
Pardeep Narwal made a two-point raid in the 10th minute as Patna cut the deficit to seven points. Surjeet Singh made a super raid in the 12th minute as Tamil Thalaivas led 14-5 and then followed it up with a two-point raid in the 15th minute.
Tamil Thalaivas inflicted the second all out in the 18th minute to lead 23-8. Patna Pirates defence just didn't turn up in the first half as they failed to score a single tackle point. Tamil Thalaivas ended the first half with a 18-point gap to lead 26-8.
Ajay Thakur achieved a super 10 in the 23rd minute as Tamil Thalaivas inflicted another all out to lead 32-8. Patna Pirates defence scored their first tackle point in the 25th minute as they trailed 10-33. Tamil Thalaivas forced a super tackle in the 29th minute to lead 36-13. With just 10 minutes to go, Patna Pirates were all but defeated as they trailed 14-37.
Tamil Thalaivas looked more fitter and sharper than Patna with Ajay Thakur scoring raid points at ease.
Manjeet tried to redeem some pride for Patna as he scored a couple of raid points but trailed 17-39. Pardeep Narwal scored a couple of raid points as Patna Pirates inflicted an all out in the 40th minute. But it was too little too late as Tamil Thalaivas were they ran out comfortable winners.
Tamil Thalaivas will take on UP Yoddhas in their next match tomorrow and would look to continue their impressive start to the season.