Tamil Thalaivas Team Analysis For PKL 9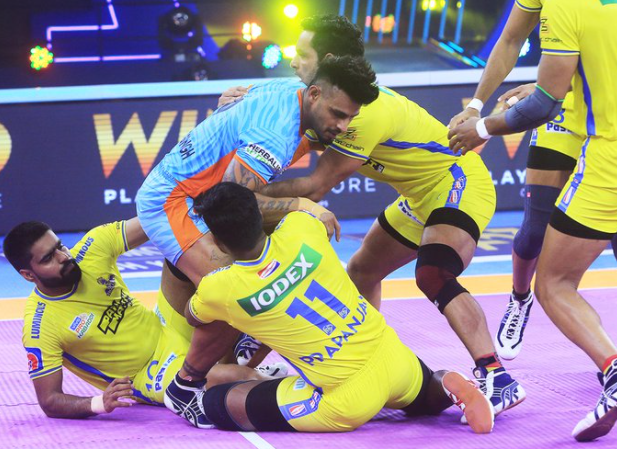 Quest Enterprises Pvt Ltd & Blasters Sports Ventures Pvt Ltd are the owners of Tamil Thalaivas team. The team failed to reach knockout stage in PKL 8. J Udaya Kumar is their coach for season 9. Pawan Kumar Sehrawat led Tamil Thalaivas will play with Gujarat Giants on 8th October.
18 players make Tamil Thalaivas squad of PKL 9.
Tamil Thalaivas Squad in PKL 9:
Pawan Kumar Sehrawat (Captain), Sagar, Ajinkya Ashok Pawar, Abhishek M, Himanshu, Himanshu Singh, Mohit, Ashish, Sahil, Jatin, Himanshu, Narender, Thanushan Laxmamohan, Md. Arif Rabbani, Visvanath V, Arpit Saroha, K Abhimanyu, Ankit
Complete Analysis:
Raiders
The most expensive player in PKL history, top raid points scorer of PKL 8 & Thalaivas captain Pawan Kumar Sehrawat will serve as a primary raider. Ajinkya Pawar might play as a secondary raider. Alternatives such as Himanshu, Himanshu Singh, Narender & Jatin are also there.
Defenders
Top defense points scorer of PKL 8 & right corner Sagar will lead the defense. Himanshu is expected to play as a left corner. M Abhishek & Mohit might be seen as a cover combination. Ankit, Aashish, Arpit Saroha & Md. Arif Rabbani are the other alternatives.
All Rounders
K Abhimanyu, Visvanath V & Thanushan Laxmamohan are there in the squad.
Offensive side is looking balanced with the entry of Pawan Kumar Sehrawat. Sagar's role will be crucial in setting the defense combination. The team has never reached playoffs since its inception. It will be interesting to see how Pawan & his team changes this.
Possible Starting 7 for Tamil Thalaivas in initial matches of PKL Season 9:
Right Corner – Sagar
Right In – Himanshu Singh
Right Cover – M Abhishek
Center – Pawan Kumar Sehrawat
Left Cover – Mohit
Left In – Ajinkya Pawar
Left Corner – Himanshu