Tamil Thalaivas Team Analysis For Pro Kabaddi Season 6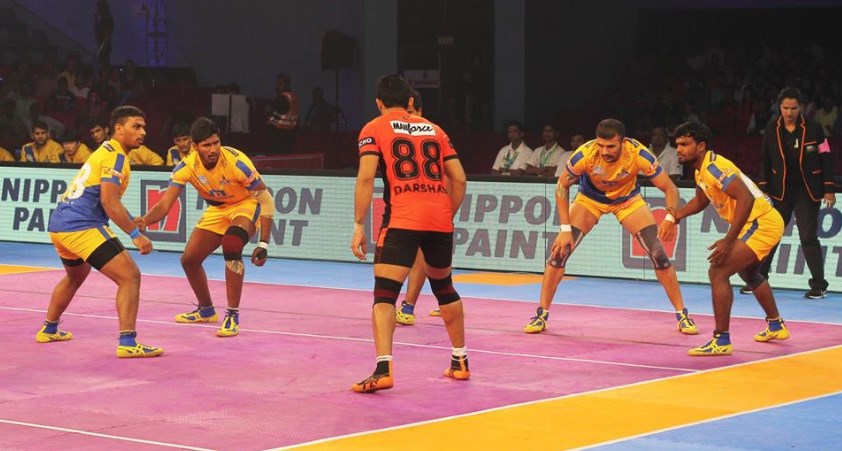 IQuest Enterprises Pvt. Ltd. & Blasters Sports Ventures Pvt. Ltd. owned Tamil Thalaivas is the franchise of Pro Kabaddi League. Edachery Bhaskaran is the coach of the team for the 6th edition of PKL.
Tamil Thalaivas had finished at the bottom of the table at their pool in PKL season 5. But this season, with some new and experienced players, coach E Bhaskaran will be hoping for a better result from his team.
Tamil Thlaivas retained their season 5 captain Ajay Thakur and defenders Amit Hooda, C Arun before the auctions. E Bhaskaran and the team management has bagged a perfect team according to their strategy. With new purchases like Manjeet Chhillar, Sukesh Hegde, Surjeet Singh, Thalaivas are expecting a better season than the previous one.
19 players will be a part of the Tamil Thalaivas this season.
Here is a complete analysis of the Tamil Thalaivas squad :
Raiders 
9 raiders will don the Tamil Thalaivas jersey. Indian Kabaddi Team Captain Ajay Thakur will once again represent Tamil Thalaivas. Before going to Tamil Thalaivas, Ajay had represented Bengaluru Bulls in season 1 & 2 and Puneri Paltan in season 3 & 4.
He has 549 points to his name from 80 matches. In the previous season, he was leading raid points scorer for Thalaivas with a total of 213 raid points and had finished third in the most raid points scorers table.
Frog jump inventor, Ajay was 'One Man Army' for the team as he was consistently giving his best performance without getting support from the defense. Due to his last raid finishes', Tamil had managed to win 6 matches in last season. He has 122 do-or-die raid points, which is the most by any player in PKL history. Tamil Thalaivas have shown faith and trust in their most successful player by retaining him in the auctions.
The smiling assassin Jasvir Singh will now be part of Tamil Thalaivas after playing 5 seasons for Jaipur Pink Panthers. He is one of the most experienced players of PKL. Famous for his scorpion kick, he has scored 366 points in 61 matches. Last year, he did not have a great season, but his experience can be crucial for the team especially in pressure situations.
The third raider on the list is Sukesh Hegde. He captained well for Gujarat Fortunegiants last season and took his team to the finals. He has 284 raid points in 67 matches. Sukesh is a man of calm demeanor which reflects in his style of raiding as well.
Surjeet Singh, former Haryana Steelers player, will be part of the Tamil squad this season. Scoring 168 points from 39 matches Surjeet is likely to support Sukesh and Ajay.
Athul MS, Anil Kumar, Anand, Abhinandan Chandel, and K Jayaseelan are other raiders in the team. Tamil Thalaivas raiding attack seems to be balanced with experienced and talented players. They have a lot of options that they can chalk out to make the best combination. This raiding side can prove to be a nightmare for the opponent's defense. By far, Tamil Thalaivas looks one of the strongest raiding sides of the league.
Defenders
6 defenders will be defending Tamil Thalaivas in upcoming Pro Kabaddi League season 6. Amit Hooda was part of Jaipur Pink Panthers before joining Tamil Thalaivas. He was one of the best defenders in season 4. Finishing 2nd at the most tackle points table, Amit took his team Jaipur into the finals. He scored 51 points in season 4. In the 5th season of PKL, Amit played extremely well and managed to get 61 tackle points in season 5.
Darshan had a dream debut with Tamil Thalaivas last season. This young and talented defender has scored 40 tackle points from 20 matches. He supported very well to Amit Hooda. Sunil who has played from teams like Patna Pirates, Dabang Delhi, and U Mumba is also in the Tamil squad. Although he has not impressed much with his performance last season, he has the ability to perform at crucial games. He has much more to prove this season.
D Gopu, C Arun and Jae Min Lee are also part of the defense. Tamil Thalaivas defense is balanced with experience and young talent. Defense is pretty much the same as it was in the last season. Amit Hooda's performance will be important from the defense perspective as he is a reliable defender in the team.
All-Rounders
4 players will show their all-round skills for the Tamil Thalaivas. Mighty Manjeet Chhillar will play once again with Ajay Thakur. Before Manjeet's switch to Jaipur and Ajay's move to Tamil Thalaivas in season 5, this 'MANJAY' duo had played 4 seasons together i.e. first two with Bengaluru Bulls and the next two for Puneri Paltan. Manjeet is arguably best all-rounders in the PKL history. Having 455 points from 74 matches to his name he is one of the most experienced players. The coach will most probably use him as a defender only.
D. Pradap, Chan Sik Park, and Vimal Raj are other names in the all-rounders' list. Talking about all-rounders a lot depends on the fitness of Manjeet Chhillar. Due to his injury, he was out of form in last season and had to miss some matches.
Tamil Thalaivas made its debut in the fifth edition of the PKL. In last season coach K Baskaran and captain Ajay Thakur provided a good base for the team to build on, and they have built a strong team for the upcoming season of PKL. Unlike last season, many experienced players are now part of the team. Tamil Thalaivas looks like a balanced team. There will be no surprises if they make it to the playoffs as they have that ability with new players.
Possible starting seven for Tamil Thalaivas in initial matches of PKL Season 6:
Right Corner – Amit Hooda
Right In – Ajay Thakur
Right Cover – Darshan J
Center – Jasvir Singh
Left Cover – Manjeet Chhillar
Left In – Sukesh Hegde
Left Corner – Sunil