Telugu Titans and Tamil Thalaivas playout draw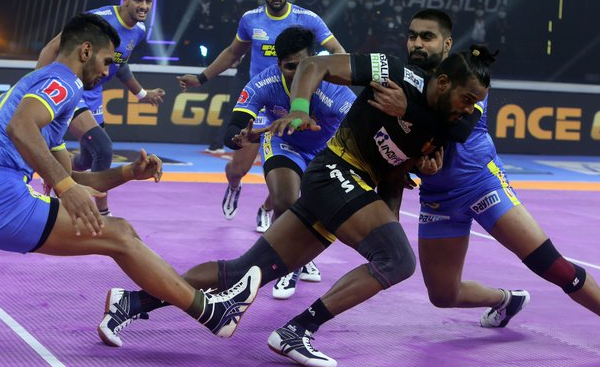 Vivo Pro Kabaddi League season 8 has started with a bang. The second match took place between Telugu Titans and Tamil Thalaivas. It was a draw with score line of 40-40.
Telugu Titans team played this match without their skipper Rohit Kumar. Right from the first minute it was the neck to neck competition.
Match's first all-out was inflicted by Telugu Titans on Tamil Thalaivas. But Thalaivas made a strong comeback reducing point's margin to 2 points. Half time score was 23-21 in favour of Thalaivas.
For the second time, Telugu Titans team was out. Thalaivas defense was too good. After that Telugu made a strong comeback. In the dying minutes, Titans became successful in ending the match as draw.
Manjeet Dahiya shined for Tamil Thalaivas with super 10 and Sahil Kumar took 4 defense points. For Telugu Titans, Siddharth Desai picked up 11 points and Sandeep Kandola scored a high 5.
Best Raider: Manjeet Dahiya – Tamil Thalivas – 12 Raid Points
Best Defender: Sandeep Kandola – Telugu Titans – 5 Tackle Points