Telugu Titans fail to score a win yet another time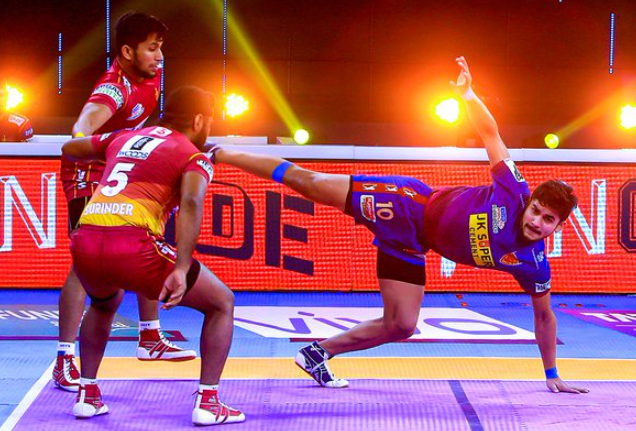 Vivo Pro Kabaddi League eighth edition is undergoing in Bengaluru. On the first day of week three, Dabang Delhi K.C. clinched a thrilling win against Telugu Titans 36-35. It was a third loss for Telugu.
Delhi and Telugu started the game scoring equally in the initial minutes. It was Telugu Titans who picked up early breakthrough as they inflicted an all-out on Delhi.
The halftime score was 18-18. Telugu defense led by Surinder Singh was successful in keeping Delhi's Naveen Kumar quiet. Titan's Rajnish was picking points in raiding.
As sson as the second half begin 'Naveen Express' skipper started his natural game. With his attacking mode Delhi inflicted an all-out on Titans and took 5 points lead.
It was a battle between Delhi raider Naveen Kumar and Telugu raider Rajnish. Both of them kept picking points for their teams. Delhi was all-out for the second time.
The neck to battle came to an end as Dabang Delhi K.C. won the match. While Delhi is still unbeatable in season 8 Telugu Titans are yet to win the match in PKL season 8.
Naveen scored a super 10 with 25 raid points. Delhi's Manjeet Chhillar took 2 tackle points. Titan's Rajnish had a super 10 to his name with 20 raid points. Surinder Singh got 4 tackle points.
Best Raider: Naveen Kumar – Dabang Delhi K.C. – 25 Raid Points                         
Best Defender: Surinder Singh – Telugu Titans – 4 Tackle Points