Telugu Titans Team Analysis For Pro Kabaddi Season 6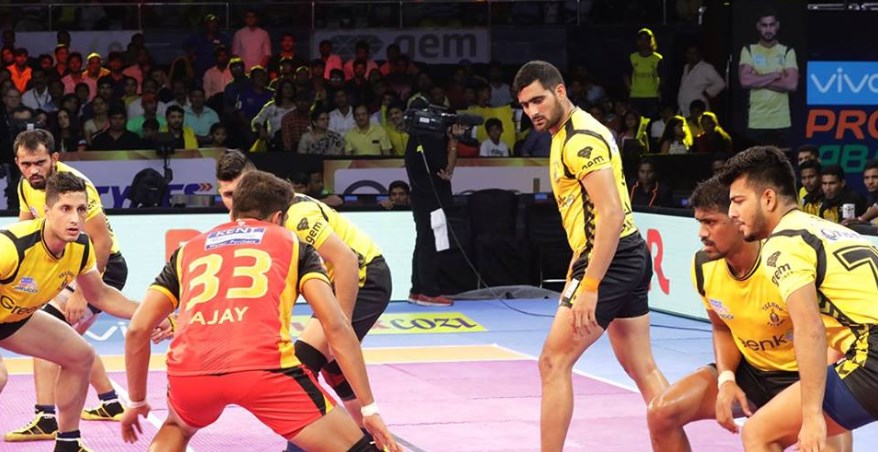 Telugu Titans Pro Kabaddi team is owned by Srinivas Sreeramaneni – Veera Sports. Telugu Titans had qualified for the semifinals in season 2 and 4. Other than that they have were placed at 5th position in season 1, 3 and 5. With new players, Telugu Titans will be aiming to give the best performance.
Nilesh Salunke, Mohsen Maghsoudloujafari were retained by the team management before the auctions. At the auctions, Dabang Delhi K.C. owners were successful in buying Telugu Titans star raider Rahul Chaudhari. But Telugu played FBM card and brought him back in their team. 18 players will be seen playing for Telugu Titans.
Here is a complete analysis of the Telugu Titans squad :
Raiders 
7 raiders will be donning Telugu Titans jersey this season. Star raider Rahul Chaudhari will be playing from Telugu Titans for 6th consecutive time. This is a record in itself for a player to play for the same team for the 6th season. Jang Kun Lee from Bengal Warriors has also the same record to his name. Rahul has scored most 666 raid points from 79 matches. He is leading raid points scorer in the PKL history.
Nilesh Salunke is another raider in the list. He is supporting pretty well to Rahul from past two seasons. Nilesh is one of the improvising players of PKL.
Mohsen Maghsoudlou also scored some good points whenever the team needed in the last season. Rakshith, Ankit Beniwal, Kamal Singh, and Anand are other raiders from the squad.
Titans Raiding department looks good. But it seems that Telugu is too dependable on Rahul. Also, other than Nilesh there is no reliable supportive raider to Rahul Chaudhari.
Defenders
8 defenders will be defending Telugu Titans. Iranian star defender Abozar Mohajermighani is with the Titans team. He has performed outstandingly in his debut season for Gujarat Fortunegiants. Having 65 tackle points to his name Abozar can prove to be a crucial buy for Telugu Titans.
Sombir is another defender in the team. He played well in the last season by taking 39 tackle points in 17 matches. Farhad Rahimi Milaghardan was retained by the team. Whenever he has got an opportunity he has performed well and has scored points for the team.
Rakesh Singh, Anuj Kumar, Manoj Kumar, Deepak, and Sanket Chavan are other defenders in the team. Telugu defense looks strong with experienced and reliable defenders.
All-Rounders
3 all-rounders are a part of the Titans squad. Vishal Bhardwaj is one of the known names for his defensive skills. Vishal is a defensive all-rounder. Because there is no promising left corner in the team, he might have a responsibility in the defensive unit. He has scored 77 tackle points from 24 matches.
Mahender Reddy and Armaan are two all-rounders in the Telugu Titans team. Both of them are inexperienced. Having only 2 all-rounders can be a worry for the team.
Telugu Titans seem to be a balanced squad with experienced and talented players. We can expect a good performance by the team.
Possible starting seven for Telugu Titans in initial matches of PKL Season 6:
Right Corner – Abozar Mohajermighani
Right In – Nilesh Salunke
Right Cover – Farhad Rahimi Milaghardan
Center – Rakshith
Left Cover – Rakesh Singh Kumar
Left In – Rahul Chaudhari
Left Corner – Vishal Bhardwaj