The Indian Men's Team Is Announced For 19th Asian Games, Hangzhou 2022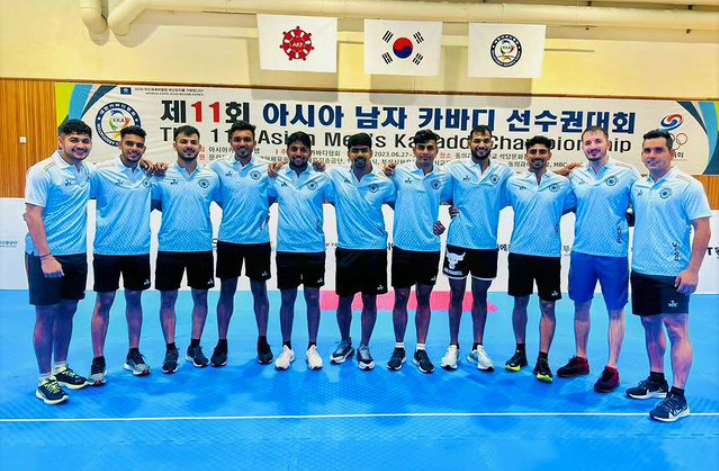 Kabaddi sport was included as a discipline in the 11th Asian Games Beijing 1990. Women's Kabaddi was included at 2010 Asian Games Guangzhou. Indian woman's team won the Gold Medal of Kabaddi there. In the next Asian Games held at Incheon 2014 Indian team defended their gold medal.
Jakarta Asian Games 2018 were turned out to be revolutionary for the game of Kabaddi. Iran women's Kabaddi team won the Gold medal there. Indian women's Kabaddi team had to satisfy on Silver medal there. Hangzhou, China to host the 19th Asian Games.
Kabaddi matches are scheduled from 2nd to 7th October. All the matches will take place at Xiaoshan Guali Sports Centre Hangzhou, China. Currently all teams are practising hard for the competition.
For that matter, a Kabaddi camp was held at Patliputra Sports Complex, Patna. After that 12 members final squad is announced out of 24 shortlisted playrts. They will represent India at Asian Games Hangzhou 2022.
Indian Men's Squad for 19th Asian Games, Hangzhou 2022:
Akash Shinde, Aslam Inamdar, Arjun Deshwal, Naveen Kumar, Pawan Kumar Sehrawat, Sunil Kumar, Surjeet Narwal, Parvesh Bhainswal, Nitesh Kumar, Vishal Bhardwaj, Nitin Rawal & Sachin Tanwar.
Coaches For The Team:
1) Ashan Kumar
2) E. Bhaskaran
3) Sanjeev Baliyan