These players can join 1000 club of Pro Kabaddi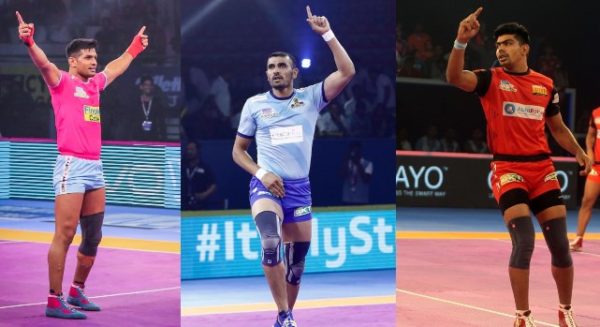 To date, seven seasons of the Pro Kabaddi League have passed. If you look at the statistics for these seven seasons, only two players have managed to reach the 1,000-point mark. The two players are Pardeep Narwal and Rahul Chaudhary. So far, Pardeep has scored 1169 points while Rahul has scored 1014 points. In this article, we will take a look at the players who can reach the milestone of one thousand points in the coming season.
1. Deepak Niwas Hooda –
Deepak is currently the third-highest scoring player in the Pro Kabaddi League. He has scored 943 points. Deepak needs only 57 points to reach the 1000 mark. Given Deepak's current form, reaching this stage will be a very easy task for him. Deepak has scored more than 150 points in the last three consecutive seasons. He is an excellent all-rounder. Considering the total number of matches in the Pro Kabaddi League, Deepak can score 1000 points in the first 8-9 matches.
2. Ajay Thakur –
Former India captain Ajay Thakur is known as a star player in the Pro Kabaddi League. His ability to use his height wisely to score points is commendable. Ajay has scored 811 points so far. Ajay had played only 13 matches last season due to injury. However, in the fifth and sixth seasons, he scored more than 200 points each. Ajay needs 189 points to reach the 1,000 mark. If Ajay plays to his potential next season, it will not be much difficult for him to reach this stage.
3. Pawan Kumar Sehrawat –
Pawan is currently ranked sixth in the list of highest scoring players in the Pro Kabaddi League. He has scored 716 points. That means Pawan needs 284 points to reach 1000 points. Looking at the form of Pawan in the last two seasons, he can reach the level of 1000 points in the coming season. He had scored 282 points in the fifth season of Pro Kabaddi and has a tally of whopping 360 points in the seventh season. It is safe to say that Pawan will be able to reach the 1000 mark if he maintains his form for the next two seasons.