Thrilling matches fascinated the second day of Ghatkopar Premier League 2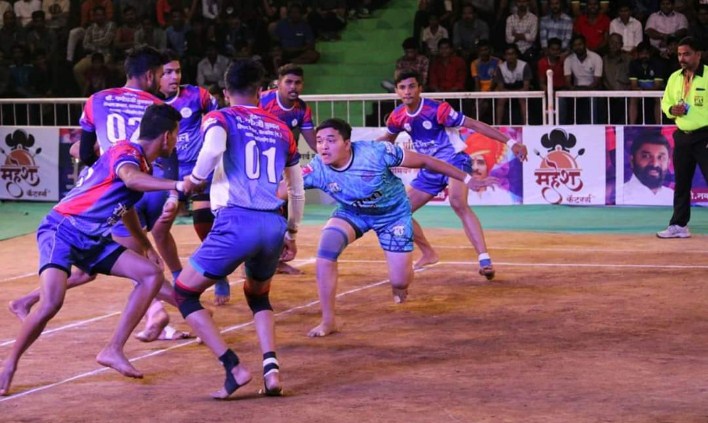 Mumbai Suburb District Kabaddi Association recognized and Ghatkopar Pratishthan have organized second Ghatkopar Kabaddi Premier League at Bhatwadi. On the second day of Ghatkopar Premier League, Devansh Super King won 23-22 over the Anishree Challengers. Karan Kokare and Kishor Gawali contributed in the win. From the losing side, Vighnesh Chaudhari was splendid.
In the second match, Ranpise Royals managed to win 30-29 over Royal Pantnagar with the courtesy of Akshay Parab and Mayur Jadhav. Ghatkoparchi Aai Mahakali team defeated Aai Shimbradevi Warriors 27-18. Anishree Challengers thrashed Delhi Yoddha 25-22. Ranpise Royals suffered a loss in the hands of Bhatwadi Sai Darshan Packers 25-16. Siddhesh Panchal and Aadesh Sawant starred in the win of Aaryan Warriors against Chandrarao Warriors as 22-21.
Kishor Gawalii (Devansh), Abhishek Padelkar (Royal Pantnagar), Prabhu Mudliyar (Ghatkoparchi Aai Mahakali), Vighnesh Chaudhari (Anishree), Vikrant Narvekar (Ranpise Royals), Aadesh Sawant (Aaryan) were the best players on the second day of the league. All the Junior and senior players are delivering good performances.
Former NCP Corporater Rekha Jadhav, Officials of Ahemednagar District Kabaddi Association were present on the second day. All of them were honored at the occasion.
Day 2 Results :
1) Devansh Super Kings 23 VS 22 Anishree Challengers
2) Ranpise Royals 30 VS 29 Royal Pantnagar
3) Ghatkoparchi Aai Mahakali 27 VS 18 Aai Shimbradevi Warriors
4) Anishree Challengers 25 VS 22 Delhi Yoddha
5) Bhatwadi Sai Darshan Packers 25 VS 16 Ranpise Royals
6) Aaryan Warriors 22 VS 21 Chandrarao Warriors