Top 5 Raiders of PKL Season 6 that showcased best raiding performances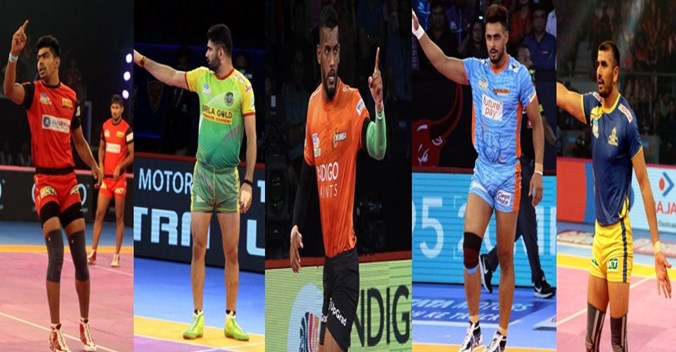 India's second most popular Pro Kabaddi League Season 6 got a new winner to its trophy. On Saturday (5th January) Bengaluru Bulls lifted PKL 6 trophy for the first time in their league history. As far as individual performances are concerned many young players like Siddharth Desai, Naveen Kumar, Manjeet, Naveen have emerged from the league. Also, established players such as Pardeep Narwal, Ajay Thakur, Deepak Niwas Hooda have continued their performances. Pawan Kumar Sehrawat, Vikash Khandola, Sachin have improved their game.
Top Five Raiders of Pro Kabaddi League Season 6: 
1) Pawan Kumar Sehrawat, Bengaluru Bulls
Pawan Kumar Sehrawat won the 'Most Valuable Player of the Tournament' award. He was phenomenal for the PKL winner Bengaluru Bulls throughout the tournament. Running hand touch is the signature raiding move of Pawan. Pawan has 271 raid points to his name from 24 matches with 12 Super Raids and 13 Super 10 in season 6. He holds the average of 11.29 raid points.
2) Pardeep Narwal, Patna Pirates
Even if three times title holders Patna Pirates did not qualified for the playoffs their skipper Pardeep Narwal did not let down the expectations of his fans. Consistent Pardeep was given a splendid performance one again. He took the charge of his team's raiding attack. Dubki king Pardeep notched 216 raid points from 19 matches with holding an average of 11.1. He scored 15 Super 10's and 6 Super Raids.
3) Siddharth Desai, U Mumba
'Record-breaker' Siddharth Desai is the fastest player to score 50 raid points. He jointly holds the record with Rahul Chaudhari of scoring fastest 100 raid points. He is the only player to score 200 raid points in maiden PKL appearance. Running hand touch is his signature move. Siddharth took U Mumba into the playoffs of PKL 6. Siddharth Desai cliched 218 raid points from 21 matches. He has scored 12 Super 10's and 10 Super Raids with an impressive average of 10.38 raid points.
4) Maninder Singh, Bengal Warriors
Having running hand touch as a mostly used move Maninder was the top raider for his team Bengal Warriors. He is a smart player and plays a very calculative game. He led Bengal's raiding attack very well till the playoffs. Maninder has clinched 206 raid points from 2 matches with holding an average of 9.36. He has 9 Super 10's and 6 Super Raids to his name.
5) Ajay Thakur, Tamil Thalaivas
The PKL season was changed but Tamil Thalaivas story in the league remained the same. Their skipper Ajay Thakur led from the front. He tried his level best but his team got eliminated from the group stage. Frog jump, running hand touch and escape are mostly used moves by him while playing. Ajay Thakur has scored 203 raid points from 22 matches with holding an average of 9.23. He has 3 Super Raids and 7 Super 10's on PKL 6.