U Mumba put dominating performance to beat Telugu Titans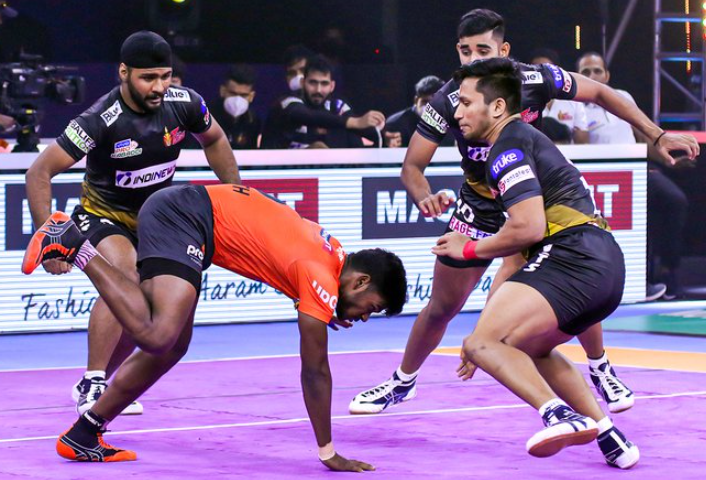 On fourth day of week three in Pro Kabaddi League eighth edition, season 2 winners U Mumba crushed Telugu Titans 48-38. The hunt for Telugu Titan's first win still continues in PKL 8.
U Mumba vice-captain Abhishek Singh and V Ajith Kumar started picking points. Their defense kept Telugu raiders away from the mat. Telugu Titans was all-out.
Telugu Titans substitute raider Galla Raju put some amazing raids with support of Rakesh Gowda and Ankit Beniwal. Mumba raider V Ajith Kumar was also taking points.
With few minutes left for commencement of the first half, U Mumba inflicted second all-out on Telugu Titans. The half time score was 28 U Mumba and 13 Telugu.
In the second half, U Mumba inflicted its third all-out on Telugu Titans. They consolidated their lead 37-20. Telugu Titans repaid the all-out to U Mumba.
But it was too late as Mumba comfortably win by 10 points. U Mumba raider Abhishek Singh scored a super 10 with 13 raid points. V Ajith Kumar had 8 raid points.
Rinku picked up high 5 with massive 7 tackle points. Skipper Fazel Atrachali and Harendra Kumar took 4 tackle points each. Mohsen Maghsoudlou got 2 tackle points.
Telugu raider Galla Raju and Rakesh Gowda earned 7 raid points each. Ankit Beniwal had 6 raid points. Muhammed Shihas scored a high 5. Ruturaj Koravi got 4 tackle points.
Best Raider: Abhishek Singh – U Mumba – 13 Raid Points
Best Defender: Rinku – U Mumba – 7 Tackle Points