UP Yoddha get their first taste of victory of VIVO Pro Kabaddi Season 7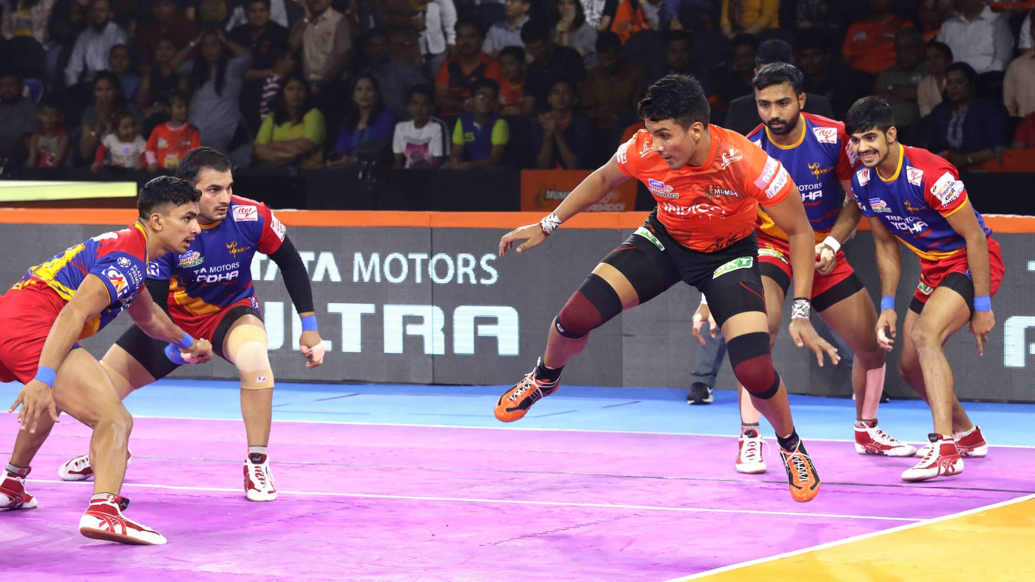 The TOUGHEST MOMENT OF THE MATCH was when Fazel Atrachali got a double ankle hold on Rishank Devadiga in the 40th minute but was overturned after it was found out that he went out of bounds before making the heroic effort.
UP Yoddha notched up their first win of VIVO Pro Kabaddi League Season 7 as they beat U Mumba 27-23. Sumit put in a herculean effort and kept the U Mumba raiders quiet all night, ending up with 6 tackle points. The tie was dominated by defenders from both sides who outscored raiders 24-20 overall from both sides highlighting the analysis and study that the teams have been doing against raiders of all teams.
U Mumba and UP Yoddha were coming into the game looking to win this game and build some momentum going ahead in the season but this match didn't go as planned for U Mumba. UP Yoddha on the other hand had Sumit who was constantly breaking the rhythm of the U Mumba's raiders as he got 6 tackle points. The experienced Monu Goyat also made some handy raids in the end which helped them get their lead back in the dying moments.
The game started with maybe a breath of fresh air in the name of Rishank Devadiga who came back after an injury and ably supported Monu Goyat. It looked like both the teams were cautious in their approach as the lead kept switching with every raid. Fazel "Sultan" Atrachali stamped his mark on the match with a strong dash and block on a returning Shrikant Jadhav to completely throw him out of the mat with brute force in the 6th minute. It looked like UP would start building a lead, but U Mumba made a strong comeback as seen by the Super Tackle made by the raider Rohit Baliyan on Shrikant Jadhav. With Abhishek Singh being kept quiet while Monu Goyat was making a difference for UP Yoddha, it looked like U Mumba was losing their momentum.
The last raid of the half saw the last man for U Mumba, Fazel, try to make a raid but only got a bonus as he was stopped by Ashu Singh to make the score 12-14 at the stroke of half-time. The second half continued to be close with every move being countered by the other. UP Yoddha were moving ahead with a very slim margin of just 2 points and their strategy was to slow the game down and control the game. It looked like Young Chang Ko would shine for U Mumba when he got Monu Goyat with a strong block in the 24th minute to make the score 14-16. A running hand touch by Rishank Devadiga kept Fazel on the bench for nearly half the time as the clock hit 30 minutes.
Sumit made a major impact for UP Yoddha as he got a High 5 by the 30th minute proving his mettle and strength with his ankle hold on Arjun Deshwal. In the 40th minute, Fazel Atrachali got a double ankle hold on Rishank Devadiga but it was overturned after it was found out that he went out of bounds before making the heroic effort giving UP Yoddha a point and a victory to savor. UP Yoddha continued to calmly pass the time and thus won by 27-23.
Fans can catch live action of the match between Gujarat Fortunegiants and Dabang Delhi K.C. at the Sardar Vallabhai Patel Indoor Stadium, Mumbai on Thursday, 1st August 2019, 7:30PM onwards on Star Sports 2, Star Sports 2 HD, Star Sports 1 Hindi, Star Sports 1 HD Hindi, Star Sports 1 Tamil, Star Sports 1 Marathi, Star Sports 1 Telugu, Star Sports 1 Kannada and Hotstar.