UP Yoddha Put A Valiant Fight But Lose 31-38 To Gujarat Giants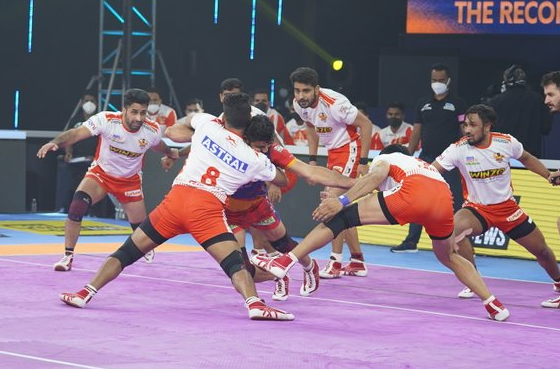 13th February 2022, Bengaluru: U.P. Yoddha – the UP franchisee of the GMR group, today lost a thrilling encounter against Gujarat Giants by a score-line of 38 – 31 in the 115th game of the ongoing Pro Kabaddi League. Pardeep Narwal today showcased his class leading the fight for Yoddha's earning 12 valuable raid points that included a glorious super-raid of 6 points helping UP Yoddha inflict an 'All Out' on Gujarat Giants. He also became the only player in PKL history to cross 1300 raid points. UP Yoddha are now placed 5th in the After this match, Yoddhas are now placed number 5th with 58 points to their kitty.
UP Yoddha will next lock horns with Dabang Delhi K.C. tomorrow, 14th February, 2022. The match will be broadcast LIVE on Star Sports Network and Disney Hotstar from 8:30 p.m. onwards.
The initial moments of the first half was a neck-to-neck fight between both the teams, however Gujarat Giants raced their way ahead to have a dominating 11-4 lead in the first 7 minutes of the game. UP Yoddha in the first half made many effoerts for a comeback but somehow the Giants edged them out at every moment inflicting their second 'All Out' on the Yoddha's in the 13th minute. This All Out took the giants to a mammoth 22-7 lead in the game. The Yoddha's thereafter started a concentrated effort to make a comeback and slowly started cutting the 15 point deficit. The first half came to an end with the scoreboard reading 24-12 to Gujarat Giants favour.
The second half began with U.P. Yoddha earning some crucial points through raids & defense and finally in the 27th minute record breaker Pardeep showcased his class inflicting a '6 point Super Raid' helping UP Yoddha inflict their first All Out on Gujarat Giants. The scoreboard now read 22-28 still to the giants favour. However it was Pardeep's glorious 'Super Raid' that visibly boosted UP Yoddha's confidence as their defense and raiding units performed in unison, with the scoreboard reading 24-30 in the 29th minute. Pardeep Narwal today also became the only player in PKL history to cross 1300 points. The Yoddha's thereafter played like warriors but the Giants stood their ground ensuring the match came to an end with the scoreboard reading 38-31 to the Giants favour.
UP Yoddha has ABP News as their lead sponsor, while GMR Group, GMR Sports, Iodex, Socios.com & Encalm Lounge have joined hands as principal sponsors. Adding to that, Amaze Batteries & Inverters, along with Lifelong and Paytm first Games have come on board as associate sponsors.