UP Yoddha Team Analysis For Pro Kabaddi Season 6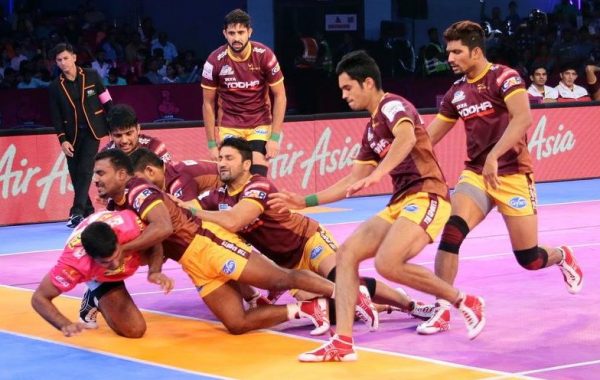 Pro Kabaddi League's UP Yoddha is one of those teams who got instant success in their first season of PKL. The team had made into the playoffs in last edition of PKL. Lucknow based franchise is owned by GMR League games Pvt. Ltd and is coached by J Udaya Kumar. 
The team was semifinalists in PKL season 5, team management decided not to retain any player. All they wanted is to come up with fresh squad in PKL approaching season. Rishank Devadiga is brought back by UP Yoddha for Rs.1.11 Crore via FBM. He is one of the costliest buy of this season. Letting go Nitin Tomar who captained the team is still a mystery for everyone.
Squad strength of UP Yoddha is 18.
Here is a complete analysis of the UP Yoddha squad :
Raiders 
There are in all 7 raiders with the team. Rishank Devadiga is one of them. Rishank has got 490 points in 80 matches to his name. He was part of U Mumba before switching to UP Yoddha last season. Rishank is one of the best players that Pro Kabaddi have ever produced.
Prashanth Kumar Rai is also with the team. Prashanth scored 80 points from 16 matches for Haryana Steelers. He is one of the calm raiders of PKL who has played most 60 matches without getting any card i.e. Green Card, Yellow Card or Red Card.
Shrikant Jadhav former U Mumba star is now a 'Yoddha'. He has claimed 98 points from 19 matches played for Mumba in last edition of the league. Shrikant was U Mumba's 'go-to-man' for do-or-die raids.
Other than this Rohit Kumar Choudary, Azad Singh, Bhanu Pratap Tomar and Bangladesh player Sulieman Kabir will be seen raiding for UP Yoddha.
Raiding side is impressive but there is no reliable and experience raider.
Defenders
In the list of 7 defenders Jeeva Kumar is one of the most experienced players of the league. He has 155 tackle points to his name while playing in 74 matches.
Youngsters like Nitesh Kumar, Pankaj, Sachin Kumar, Vishav Chaudhary, Nitin Mavi, and Amit will be part of UP's defense in season 6 of PKL.
In the defense unit only Jeeva Kumar is a reliable player. Apart from him all are youngsters lack experience. But with efforts and guidance they can be impressive as well.
All-Rounders
Sagar B. Krishna, Akram Shaikh, Narender and South Korean Seong Ryeol Kim are the all-rounders who will be representing UP Yoddha.
All of them are inexperienced and have not have shown very good performances in the past. Although Sagar B. Krishna had shown some spark while playing for this team in previous season but the team cannot depend only on him as he is not that much experienced.
All-in-all, it can be seen that UP Yoddha are putting faith on youngsters. But they might regret not going for experienced and reliable players. As well as, not retaining player like Nitin Tomar can be prove as big mistake of management if UP's new raiders fails to deliver their performance under pressure situations.
Possible starting seven UP Yoddha in initial matches of PKL Season 6:
Right Corner – Nitesh Kumar
Right In – Shrikant Jadhav
Right Cover – Nitin Mavi
Center – Rishank Devadiga
Left Cover – Jeeva Kumar
Left In – Prashanth Kumar Rai
Left Corner – Sagar B. Krishna